April 19, 2015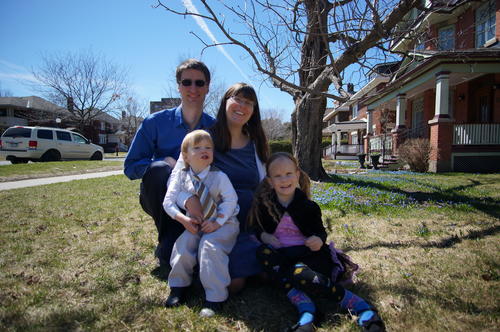 It was "Marriage Sunday" at our church today, and Brendan and I renewed our vows along with 17 other couples. Together we represented 530 years of matrimony ranging from 1952 (I think, based on my hazy memory!) to 2012. They arranged us in order of marriage date - we were amused to discover that four couples celebrated their 47th wedding anniversaries this year. Brendan and I were one of the most recently wed couples! I very much enjoyed the sermon (which I live-texted to Brendan as he was stuck in the nursery). My favourite part was (single) Pastor Michelle's joke that she likes to tell people that Jesus never married and he's the only person to have ever lived a perfect sinless life...
Matthew flatly refused to sit in his seat during the vow renewals so as soon it became clear that the alternative would be a loud shrieking disruption he came along clinging to me like a petrified monkey. Luckily I'm pregnant enough that he could sit on his baby sister while I was holding Brendan's hands! He was so traumatized by the suggestion that he sit without Mom and Dad for five minutes that I actually wondered if he was not feeling well during the twenty minutes or so it took him to recover. But apparently it was just acute separation anxiety brought on by a change in a well-established routine.
Despite the less than cooperative son it was a really nicely done service and we very much enjoyed it. Elizabeth's friend Karis dressed up as a bridesmaid. Elizabeth thinks she would like a dress like that too now! The kids agreed that the best part was the wedding cake(s) at the end.
You might also like
- Virtual Piano Recital
(0.382415)
- Christmas Eve
(0.373306)
- #Jessdoesthemath
(0.371204)
- Spartan Race
(0.370172)
- Good Friday 2015
(0.369421)
All