May 9, 2015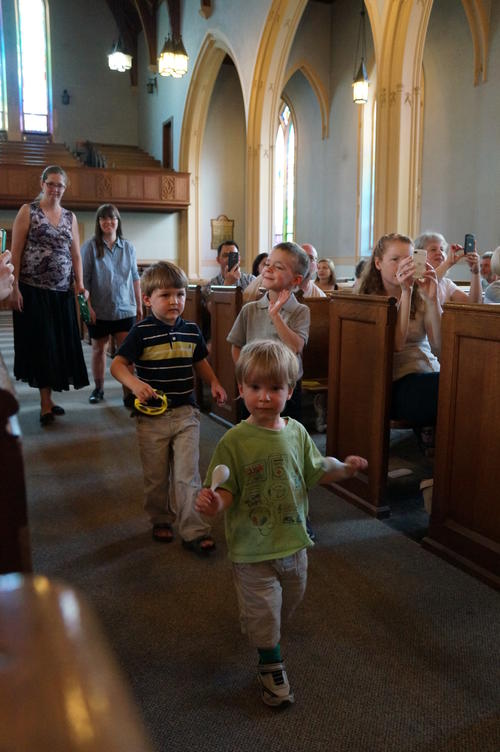 Elizabeth was invited to two different birthday parties, which of course happened to coincide with her spring piano recital.
Party #1 was Cosmic Adventures with Adi, and of course Elizabeth was pretty excited to be going. She carefully made her card and Matthew hopefully made one too after she told him he couldn't come because he had no card or present. We took him on an "adventure" to buy more dirt and flowers for the garden instead, which seemed to satisfy him - probably because he doesn't remember what Cosmic Adventures is...
There was a lot of gardening in between drop off and pick up for the two parties. Elizabeth and Matthew played in the sandbox when they got tired of helping.
Party #2 was a princess party (Princess Ariel, to be precise) at Lea's house. We weren't going to let Elizabeth go at first, but Lea's mom emailed me to see whether Elizabeth could come so we relented. This did mean that we had two recitals on the same day. Matthew was much more confident this time - banging his tambourine with vim and vigour and singing along to the "Mr Sun" song. Sadly he could not be stopped from continuing to sing so we had to leave the room after that! He enjoyed the dancing song as well.
Elizabeth's party ended a mere fifteen minutes before the start of recital #2 so Daddy had to motor to get her there on time. She was slightly delayed due to problems with the doorbell but managed to make the rhythm parade that always starts off the recital - though she did have to run... Matthew was happy to get to do the parade twice, but after Elizabeth's piece Daddy took him out for a walk as it was a bit much to expect him to sit through the whole thing again, especially considering that it was VERY hot. Mrs Hannah and Mrs Shana had kindly suggested that we could slip out anytime after Elizabeth's piece (which they put at the beginning). I left it up to Elizabeth, who didn't want to miss her "favourite" song aka Matthew's dancing song. So we ended up staying until then (about two thirds the way through). When we got home and Elizabeth realized that we weren't doing anything "exciting" the rest of the day she said wished she had stayed longer. But Mommy was hot so just as glad that we didn't! Elizabeth was so excited that she rushed her piece a little bit - it was fine but the version she played on a video that we sent out a few weeks ago was much better performed. Ah well!
There was more gardening before and after supper and even after the kids went to bed, but we managed to get all the flowers planted and watered, 1680L of dirt spread in the various garden boxes and many bags of mulch arranged to my satisfaction.

You might also like
- Homeschool wk apr 6-9
(0.420437)
- Home
(0.419815)
- Virtual Piano Recital
(0.418255)
- Music
(0.416968)
- Fall summer
(0.416)
All