May 17, 2015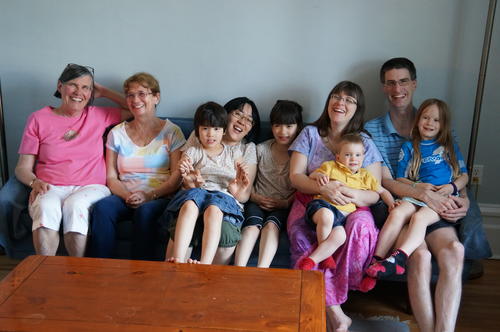 Brendan's paternal aunt is visiting from Austria - it's the first time Brendan remembers meeting her as the last time he met her he was Matthew's age! Elizabeth was fascinated to hear that she had another great Aunt that she hadn't met yet and really, really wants to go visit her house now. Maybe in a few years when the kids are a bit older...
It was the sheep shearing festival at the Agriculture Museum, so we invited her and Grandma to come check it out with us. It was a real scorcher of a day but lots of fun and it was the first time Brendan got to experience it first hand. My favourite part as always was the dog trials - especially the Frisbee tricks. It always makes me wish I had a dog, at least for a few minutes...
After the sheep shearing we headed to Sunnyside for Maria's 6th birthday party with the family. I made Maria a cake in the shape of a bear which was a great hit (Maria LOOOVES bears) until she realized that we had to cut it up in order to eat it. Oops!
You might also like
- Sheep Shearing
(0.37518)
- First day of Maternelle
(0.354642)
- Family Day
(0.34891)
- Easter
(0.345985)
- Family time
(0.34345)
All