May 15, 2015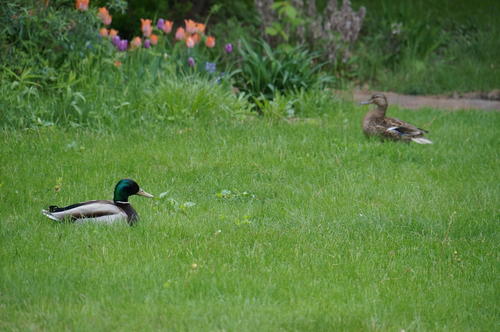 When we headed out to the bus stop this morning, Elizabeth and Matthew were very excited to discover ducks on our neighbours' lawn.
We've had ducks hanging out on our lawn before - a few years ago they stayed for several weeks (I gather they spent a fair amount of time in another neighbours' swimming pool!) but this time they were gone by the time we came back from the bus.
I'm always amazed by the variety of wildlife we have despite our extreme urban setting. There's a woodpecker nesting by Elizabeth's bus stop, chickadees nesting across the street, cardinals and blue jays in our backyard. Then there are dozens of squirrels, bats and who knows what else that call our large maple "home". Chipmunks in the rock pile, raccoons two doors down and yesterday an extremely large skunk ambled across our yard in broad daylight. Luckily the skunk appears to have moved on - we'd rather keep the ducks...
You might also like
- Amelia visits the playhouse
(0.329857)
- Sheep Shearing
(0.323329)
- Halloween
(0.322196)
- Christmas Day 2: PJ Day
(0.316642)
- Cottage Days: Feeding the deer
(0.314324)
All