May 12, 2015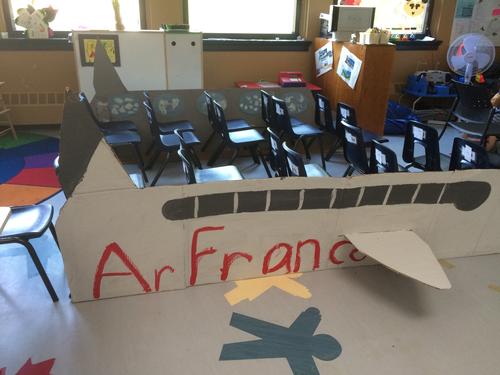 Elizabeth's junior kindergarten (maternelle) year was really great. This year started out badly when Elizabeth was separated from her best friend and while I'm not sure I've blogged about the numerous fails since then, I've sure given many of you an earful.
The main problem was really a lack of consistency with her teachers, as her main teacher went on leave at the end of September and her ECE quit two weeks later. The new ECE is fine, but the main teacher didn't come back until the end of November and still isn't back full time now (three mornings a week for a long time, though I think she recently is now doing all the mornings). In any case, they opted to fill the remaining time with random supply teachers. Elizabeth often announced that she had a "brand new" monsieur or madam that afternoon and hadn't yet learned their name.
We tried to meet with the teacher after receiving a report card that clearly didn't reference our child - probably due to the supply issue, but possibly due to our kid being very good at blending in with her peers and not cooperating with teachers when asked to display her knowledge. On one hand, we aren't concerned about report cards in kindergarten. But on the other hand it was irritating to read that Elizabeth doesn't know how to count to 30 yet and needed to work on her addition strategies - the second is particularly surprising since having worked on grade one math at home all year with Elizabeth I'm quite certain that she's well ahead of her peers and frankly any teacher who is paying attention should be able to figure this out. In any case we were totally unsuccessful in getting an appointment and we were super cranky about it.
Another sore point was the nearly complete lack of field trips or special events, which I found I missed mainly because it meant that we didn't have much visibility into what they were actually doing or how the kids were interacting. So we were feeling quite negative and looking forward to Elizabeth moving on to the next school.
BUT... Suddenly they appear to be making up for some of the nonsense earlier and they are definitely finishing strong.
Today I was asked to come into the school to help with a trip to Hawaii. I was amazed at the level of preparation that the kids and the teachers obviously did. I was asked to do baggage security and randomly pull kids aside for "inspection". If they hadn't removed their lunches from their bags and still had water, I was to confiscate it. There was a ticket agent and customs official too. Each kid sat in a numbered seat in the "airplane"
My favourite part was the teacher who acted as stewardess. She had a cardboard lifejacket and did the whole safety spiel. Then the "pilot" came in and they took off with the help of a small video. The stewardess distributed in flight snacks. They "landed" and arrived in Hawaii where they received flowers and "grass" skirts.
It was quite hilarious and there is no question the kids really enjoyed themselves. I'm feeling less like this year was a total waste of Elizabeth's time.
You might also like
- Homeschool wk may 11-15
(0.469111)
- Child Labour
(0.468009)
- Healthy Girl
(0.459986)
- Homeschool wk apr 14-17
(0.459517)
- Sewing with kids
(0.457333)
All