June 10, 2015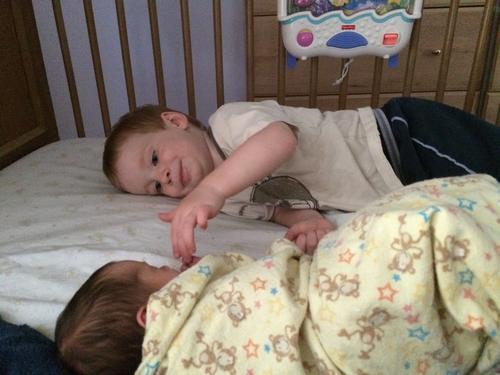 At one week, Amelia is back to her birth weight - well actually 6 pounds and 4 ounces. We couldn't easily get an appointment with her pediatrician the day after we left the hospital, so my family doctor graciously agreed to see her. Then the pediatrician's office demanded a referral (in order to be able to charge OHIP more money), which family doctor thought was a little rude as the family doctor doesn't exactly get paid more to write the referral. We also booked a second appointment with the family doctor in case the pediatrician didn't get around to scheduling the one week follow-up in time.
Good thing we did, as the day of our follow-up we got a call from the ped's office telling us they needed to "reschedule" our appointment. I pointed out that we hadn't been given an original appointment yet, but duly rescheduled for the 24th of June. A little later I took another call from the scheduling department to tell us about the original appointment. "You mean the one that you called to reschedule half an hour ago?" I asked. But we didn't really enter the twilight zone until we actually got to the family doctor appointment and were told that the pediatrician had faxed them to say we had failed to show up for our scheduled appointment last week. Needless to say it's a good thing that Dr Jacoby is so amazing because we are very unimpressed with their office staff at the moment!!!
In any case, the doctor agreed with me that Amelia seems to be thriving and gave us two weeks off for "good behaviour". Amelia is starting to hold her head up a little better and has lost her umbilical cord. She does seem to have a bit of an "outie" belly button though. She sleeps extremely well even at night, but usually wakes up after a three or four hour stretch to nurse. Then obligingly goes back to sleep. She is somewhat inclined to be "spitty", but since she's gaining weight and producing many diapers no one is worried about this.
You might also like
- Jaundice
(0.411704)
- 2 months
(0.408676)
- Home
(0.407199)
- Iron Man
(0.404088)
- How many weeks?
(0.403738)
All