June 6, 2015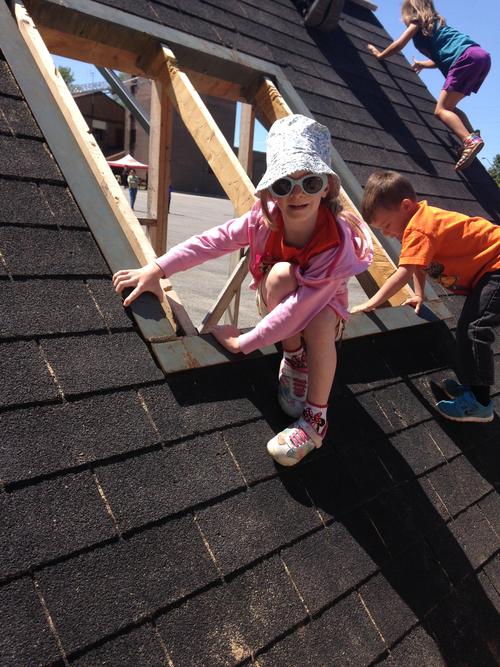 I was very sad when I realized that the timing of Amelia's exit would mean no Doors Open Ottawa for me this year. But of course the rest of the family had to go!
I was quite excited about Canadian Blood Services but unfortunately they ran out of tour time slots by the time I emailed them. Their email suggested we should go anyway. It'll be family friendly, they said. There will be cookies, they said. So I sent Elizabeth and Matthew off with Grandma and Grandpa, who reported that the cookies were only for those getting their blood taken AND everything was obviously geared for older people. Sigh. Our family is mostly ineligible to donate blood by virtue of having lived in Europe during the 80s. I was hoping that this might be a small opening to show my kids that donating blood is a good thing. Let's just say the demonstration didn't help the cause.
Luckily the Alta Vista Animal Hospital was amazing. The kids came home bubbling over about kittens and animals getting rehab on a water treadmill. They also were given bulldog balloons and a helium balloon "for Amelia".
My dad noted that the inpatient capacity was slightly smaller than CEML (the hospital my folks work at in Angola).
He writes: "But - fully equipped and staffed - the web site says 'Our team is comprised of board certified specialists in the areas of:
Surgery
Ophthalmology
Dentistry
Internal Medicine
Cardiology
Oncology
Dermatology
Neurology'... A total of 30 doctors and corresponding support teams.
A 24/7 ER 9 (with a doc present). Critical care unit. A lab five times the size of CEML's with a fully automatic blood chem and hematology & c&C. Multiple XRays, Ultrasounds, monitors & infusion pumps all over the place. OR suite of course (some of their ortho plates & screws were on display). Multiple gas anaesthetic machines. A Rehab department including a fancy underwater treadmill. And in the basement - an MRI!!! CEML patients have to travel over 1000 km for an MRI (and they had better be rich and/or very well connected).
There is one area they have that I hope we never have at CEML and that is a Euthanasia suite with private visiting area for those final goodbyes. Pushing the limits even for liberal Canada... Actually not really. Virtually all of their patients are cats and dogs.
That's right - millions of dollars have been and are being spent to provide Ottawa house pets with a level of medical care that 95% of Angolans - or maybe Africans in general can never hope to access. At CEML I doubt we have 1/10 of the resources on a per-'patient' basis. We struggle and beg for a few tens of thousands for a reliable Xray or lab equipment."
Certainly food for thought!
In the afternoon Brendan and the kids visited the Ottawa Fire Service Training Centre. They had fire trucks. They were big. There was a cool roof that you could climb on and a series of tunnels where the fireman could practice being in enclosed spaces but the kids weren't allowed to try that lest the firemen would have to use their skills for real!

You might also like
- Doors Open Ottawa: Lights, Ambulances
(0.426039)
- WKC World Championships
(0.42545)
- Doors Open Ottawa 2009 - Traffic Operations
(0.424623)
- Great Grandma Funeral
(0.424261)
- Crazy Pickles
(0.419137)
All