June 18, 2015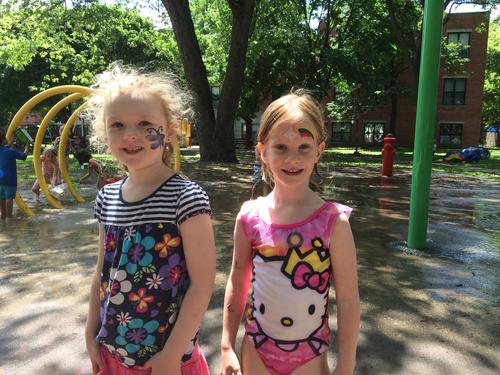 Today was Elizabeth's last day of kindergarten! How did that happen, Daddy wonders... Elizabeth's very much looking forward to being in first grade next year, mostly because the play structures have monkey bars. This week the Jardin (SK) portion of her class all went to "the big school" and hung out with a first grade class for the morning as an introduction. We were also pleased to discover that her report card actually had comments that seemed to reflect Elizabeth (unlike the last time). So it was a good end to a somewhat rocky year.
Elizabeth wrote all her teacher thank you cards by herself and mostly in the morning before the bus!
Sadly her penmanship is not quite as beautiful when in a hurry (no cursive!) Elizabeth insisted on giving her ECE from last year (Mme Josée) a card and gift too, which I thought was pretty amusing.
I'm loving the phonetic spelling and the strange grammar. "Je lem ce tu ma edi pur fer les bricolaj" (or Je l'aime que tu m'a aidé pour faire les bricolages or I like that you helped me make crafts) She also thanked her teachers for "helping her go to the park" (I gather Mme Souad in particular took them to the park around the street in the afternoons quite often in the last weeks. This was very popular.)
There was much anxiety over whether the weather would permit the end of year party in the park - but it did! We were a bit "late" arriving but Elizabeth was having too much fun playing with her friends to notice. There was facepainting, popsicles (mini yogurts that had been frozen), tattoos, crafts... I was pleased that we managed to get a picture of Elizabeth with most of her teachers (ECE Mme Sagine in the green shirt, Mme Hassina on the steps, afternoon teacher Mme Souad in front of the tree and gym/science teacher Mme Sonia)
You might also like
- Je d'école
(0.412801)
- 17th Annual Gingerbread Party
(0.39802)
- Virtual School: Week 37
(0.396535)
- Skating
(0.392405)
- First day of school
(0.391353)
All