July 1, 2015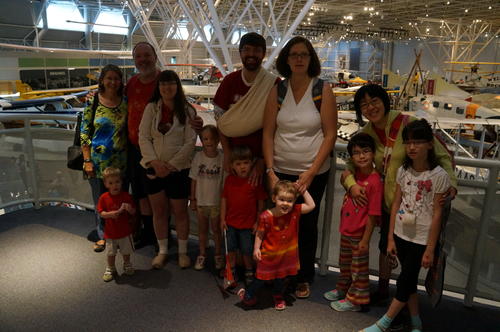 Auntie Janice often has to work on Canada Day, so we decided to head to the Aviation Museum to see what she was up to!
There were airplanes and maple leaf tattoos. We came in time to see the Police Tactical unit rappelling down from the ceiling (upside down!!) and checked out the fire services gear. I'm always amazed by how heavy that stuff is.
After the rappelling Xander got to assist in a magic show just for us! The magician gave him a foam ball to squeeze and kept the other. It vanished and turned up in Xander's hand. Then he repeated the trick so that Xander had three balls in his hand. "Keep them for a souvenir", he said as they all vanished. Xander seemed quite bemused and we were all impressed.
We intended to meet Auntie Janice at the space exhibit during her break, but we walked by the mobile science booth with all kinds of cool demos and it was many minutes before we could convince the kids to move on. Uncle Dave asked Xander if he knew what the (old fashioned) telephone was for. Nope! They particularly enjoyed knocking over the cups with the air cannon.
As we were making our way towards the space exhibit, a drum concert by BAM Percussion started. It was too loud for Amelia's sensitive baby ears (and frankly mine too) but the others went to watch part of it and I'm told it was completely amazing. I thought it was pretty cool just listening to it but I'm told that the performance took it to a different level. Hopefully we'll get to see them again sometime when we have ear protection!
We finally made it upstairs to the new space discovery centre. It has foam arrows you can fire so that was of course what we ended up doing for the rest of our visit. The arrows WERE fun though.
On our way home we were pleased that we had decided to come for the first few hours of the morning instead of later because the Aviation Parkway was backed up quite a long ways with people wanting to park having to wait for visitors to leave! I guess there were a lot of visitors, though it hadn't felt excessively crowded at the time.
You might also like
- Mooney's Bay
(0.421206)
- Family Day
(0.418963)
- Buskerfest
(0.416078)
- Nationals
(0.41503)
- Virtual School: Week 20
(0.414124)
All