July 19, 2015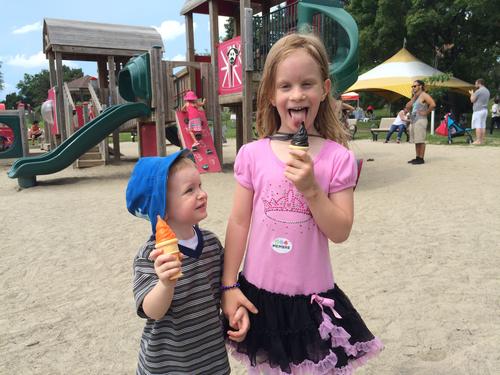 Our church celebrated Christmas in July today - the kids were thrilled that they even went to the trouble of putting up a Christmas tree and decorations. Then they got to eat all kinds of goodies while the adults learned more about our Christmas dinner outreach program and sang Christmas carols. It was a lot of fun, even if the end result was that the kids had cookies for lunch!
After church we went to the Agriculture museum for the Ice Cream festival. The kids blew bubbles and bounced in a farm-themed bouncy castle. I think this was Matthew's first time in a bouncy castle with kids other than his sister. We watched a cream separating demo (Elizabeth: "Can we try that with Mommy milk?" Mom: "No." Matthew: "Whyyyyyy???") and the kids were given ice cream shaped bubbles. I think there might have been real ice cream somewhere but we didn't find it. We could hear thunder and it looked like a rain storm was coming, plus I didn't want to have Amelia out in the sun any longer so we decided to go play in the sprinkler and eat ice cream at home.
1
On August 8, 2015 at 01:28 pm
Grandma H
said:
Was that an ice cream festival without the ice cream?
You might also like
- Sheep Shearing
(0.4)
- Rain
(0.38069)
- The birds and the bees
(0.373449)
- Energy Garden
(0.370482)
- Advent I
(0.364807)
All