July 15, 2015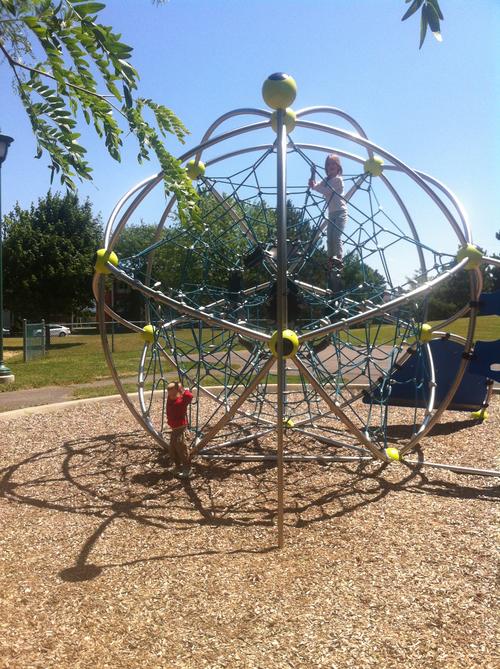 Auntie Janice here.
"Today Elizabeth, Matthew and I went on an adventure... All the way to ANOTHER PROVINCE!
Yes, we crossed the bridge into Quebec. It was epic. Now it may occur to you to ask why we went into Quebec, and there's a pretty simple answer. Auntie Janice was actually double booked.
I'd been asked by a friend to give some assistance in putting up curtains- which in this case also involved installing the rods. So while I put up the rods, Elizabeth and Matthew were in for a real treat. They got to watch a bit of Frozen! Then we captured the kitties in the house, and stamped their paw prints into Priscilla's guest book. That was exciting, to say the least. Definitely necessary, as I'm allergic to cats and yet helped these two cats move houses, so it's unlikely any other cats will ever ride in Priscilla again. Which is good, because Sage tried to bite me repeatedly as I tried in vain to get a clear paw print. Smudged beyond recognition will have to do. Then we had RAINBOW lasagna for lunch- thanks Spo! It was delicious. And then we had just enough time to take a quick visit to the COOLEST park ever. There are places to tightrope walk, TWO climbing rope castles, slides, a dinosaur... The kids were not impressed that we couldn't stay longer, but I guess that just means we'll have to visit again!"
When Janice and the kids got back, I took the kids and headed to Barrhaven to visit Auntie Karen and the cousins. The kids played outside for a bit and then Matthew fell down and came inside crying. He was uncharacteristically clingy and didn't want any watermelon. I asked him if he wanted a nap and he not only agreed but he went and lay down on the couch and promptly passed out. Turns out he had a temperature (38.5C). He didn't want supper until we were ready to go when he decided he was hungry. Luckily he waited until we got home to throw up all over Daddy. After a recovery day watching Curious George he started eating again and thankfully no one else came down with it, although Amelia already throws up so often that we aren't sure we would be able to tell if she got sick or not.
It did postpone our plans for backyard camping, but since it also poured rain perhaps this was for the best...
You might also like
- At Mary's
(0.431987)
- Ski Show and Douvris Halloween
(0.428172)
- Home
(0.426325)
- London
(0.426316)
- École LaGlace
(0.425806)
All