September 20, 2009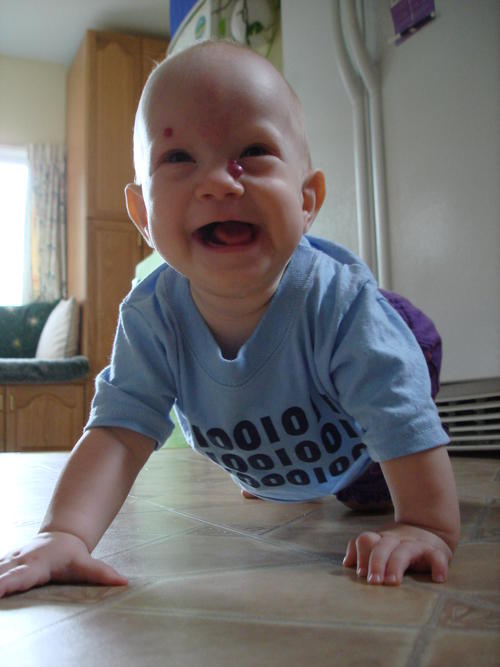 There is nothing like an increasingly mobile baby to point out how dangerous and inadequately baby-proofed a particular location can be.
In unrelated news (ahem), Elizabeth has finally figured out how to crawl. She's been able to slither around -mostly backwards - for a few weeks and in the past week started going in circles. But this morning marked the first time that she was able to move in a straight line towards an intended target. Target #1 was a shiny black and white library book ("The Orthodox Heretic" for those interested), which we thought was quite appropriate.
She tends to crawl once, flop down to see if she can reach what she's moving towards, then get back up on hands and knees to move another "step" closer. Her crawling style is a little unorthodox as she tends to stick her bum way up in the air, using her toes to move forward instead of her knees. Apparently Daddy did something similar when learning how to walk. Oh Dear!
Needless to say, we're slightly terrified by all the new things she is now able to get into.
You might also like
- One year old
(0.357883)
- Seven Months
(0.353362)
- Rehearsal Dinner #RayCray2016
(0.3531)
- River Oak
(0.352941)
- Piano Recital
(0.352697)
All