June 27, 2015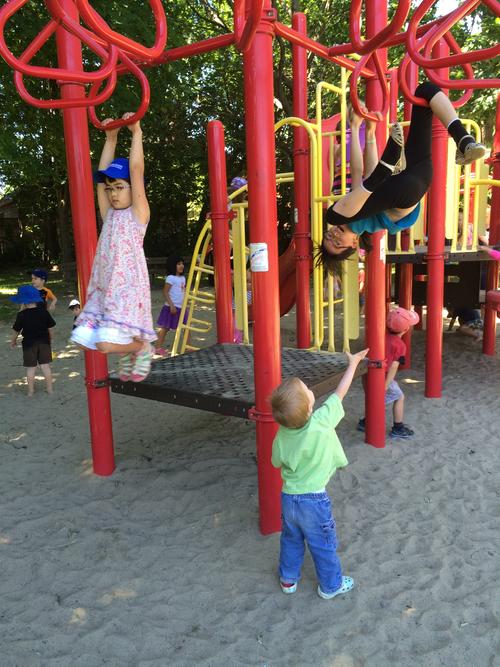 Auntie Yukiko has been working extremely hard over the last few months since Uncle Chris left for Japan via Germany. As she put it, not only is she experiencing the single mother's working life (teaching Japanese) but she also was in charge of packing up most of their stuff and prepping the Sunnyside house for rental. Finally she has successfully emptied her house and since the school year has come to a close everyone has moved in with us!
Elizabeth was very happy to have an extended sleepover with her cousins. The first thing they did was to set up a rotating schedule for the apparently highly coveted top bunk of Elizabeth's bed.
Erika greatly enjoyed teaching Elizabeth how to finger weave. We had a watermelon seed spitting contest one day when it turned out our watermelon was not seedless. My kids at first weren't going to eat the watermelon but Erika declared the pieces with seeds to be "happy pieces" and after that everyone ate them. Maria didn't want to spit as she was apparently in the middle of a book.
Sadly Erika was not well during part of her stay so she had to move out of the party room for a couple of days. But at least she recovered without passing anything on and in time to not be sick on the long long long plane ride to Japan!
You might also like
- January Duty day
(0.386179)
- Apple Picking Reprise
(0.385455)
- Birthday party
(0.384888)
- Sleeping Beauty
(0.38262)
- Sleepover time
(0.38196)
All