July 24, 2015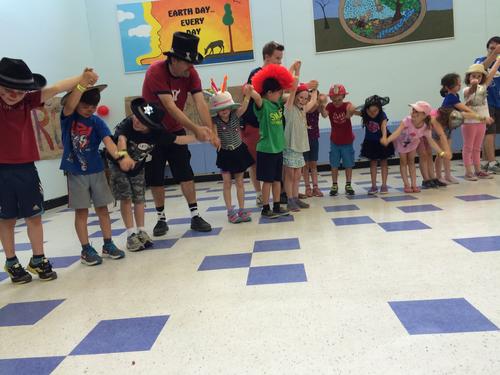 It's another camp week here and this week Xander is doing gymnastics camp half days too. So we had two shows on Friday - gymnastics and circus! Xander had a super hero theme which was hilarious. He was most excited by the prospect of somersaults, which he ably demonstrated during his show. Yay Xander! Brendan, Elizabeth and Uncle Dave couldn't make it to the show but the rest of us were there to cheer him on.
We thought we'd try out one of the Dovercourt camps this summer because they sounded pretty cool. I tried hard to convince Elizabeth to do the outdoor survival camp (biking everywhere! making fires!) but she wanted to learn how to "jiggle" and so that was that.
I may be working on trying to correct her pronunciation of chocolate "cock-let" but as far as I'm concerned juggling can stay "jiggle" forever. (Sorry Elizabeth, you are too cute!)
Anyway, Dovercourt is very well organized and as Brendan texted me the first morning at drop-off, they kind of have to be because "There are 200049849382789508383 people here. I counted." I laughed. Elizabeth got to go swimming three of the five days. There was a carnival during which the kids got to shaving cream pie their councillors. There was face paint. There was a lot of theatre and learning the art of clowning about. There were "flower sticks" and spinning plates and diabolos. And of course there was jiggling.
Elizabeth came home all excited to tell us about the things she could now do and was blown away when not only did I know the names of some of the new things she got to play with based on her description, but I actually was able to produce a pair of devil aka flower sticks. Mind blown!
She wants me to get a diabolo now...
I was quite impressed with the show they produced at the end of the week. Grandma joined our family to come cheer Elizabeth on. There was much debating at the beginning of the week about what skill Elizabeth would choose to show us, but the juggling won in the end. "Mommy" she said seriously. "I can do all the other things too. When you see the plate spinners, remember I can do it just like them, only a bit better." At the end of the show I had a long conversation with the teacher about the (non-existent but maybe coming soon) state of circus schools in Ottawa which ended with me purchasing a set of juggling scarves and a peacock feather.

1
On August 8, 2015 at 01:30 pm
Grandma H
said:
Circus camp sounds great! The children here were very excited to hear about it. Elizabeth, what do you think a 4 year old would be good at?
You might also like
- Buskerfest
(0.429956)
- London
(0.410337)
- Virtual school: Week 2
(0.409962)
- Virtual school: Week 5
(0.409768)
- Party
(0.407407)
All