July 31, 2015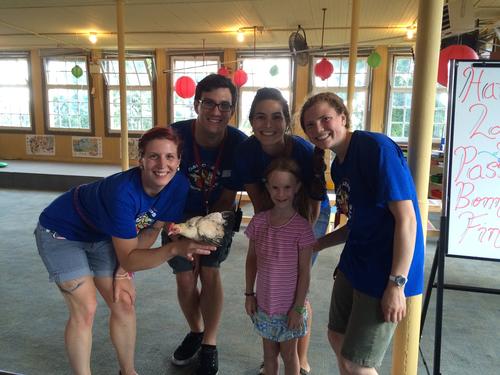 It was farm camp week this week and Elizabeth was very much looking forward to it.
She's graduated from the kinder camp this year - so no more classroom bunnies. It's also a much longer walk from the parking lot and I never quite got the hang of factoring in the extra time required properly - oh well! Ages 6-8 get to look after Collette the chicken (and Collette's boyfriend whose name I never quite caught). Collette and her chum live in the swankiest chicken coop I have ever encountered.
I know quite a lot of the Agriculture camp staff already by virtue of hanging around the museum a lot but I was particularly pleased to discover that Elizabeth was in Grace's group - Grace's sister Brittony has shown up a few times here on the blog (often dressed as Bo Peep) and they were both in youth group way back when Brendan and I were involved with that. So I thought that was pretty cool.
I dropped Elizabeth off on the first day and she hardly looked back as I left. When I came to pick her up she glanced up, saw me and then quickly looked away pretending she didn't as she wasn't ready to leave! They learned how to spool knit using a toilet paper roll, four popsicle sticks and miles of yarn. Every day hers got a little bit longer until it's quite a bit taller than she is. Not quite sure what can be done with the results but she is enjoying making it at least.
Elizabeth adopted a cow and they had to fill out report cards every day to indicate whether the cow was standing up or lying down, drinking or eating, happy or sad. I asked Elizabeth how she determined whether her cow (Vesper) was happy. "I don't really know", she said. "I just guessed." Her cow is the highest milk producer in the barn, at least according to the sign posted over top of her head. Elizabeth was quite proud of that. She was also proud of being one of the only kids to get to share her cow with another kid. The girls bonded over having the same cow. Elizabeth told us she made several new friends so even though there didn't appear to be any kids that she knew from previous years that didn't phase her at all.
Vesper wasn't so happy towards the end of the week though - not only was it pretty hot, but she came down with a case of mastitis. Elizabeth remembered me having that with Matthew and she wondered if I had to paint my breast green the way they did with the cow. (No, no I did not)
Matthew and I had fun hanging out at the museum at drop off and pickup, but we didn't really play as much as we had hoped because it was just too darn hot. In fact, now that they have inexplicably removed many of the trees that were lining the road up to the entrance and a few in the grounds proper near the roads, I found that the farm just baked in the sun to the point that we would walk to the closest barn, cut through the sheep and the pigs to stay out of the sun and head directly into the air conditioned learning centre. Then we went to get Elizabeth, dragging her reluctantly away from her friends and fun games and cut through the cow barn on the way back (again to stay in the shade as long as possible).
One good thing was that the hottest day (over 40C with the humidex and close to setting a record for Ottawa) was water day. The councillors all had spray bottles all week that they used to spray the kids as they walked around, but on water day they played in paddling pools and hosed each other off on the slip and slide. Elizabeth loved it.
She got to feed her cow, look after a horse, brush a calf and hose off the pigs. I think her favourite part about looking after the animals was getting to go in restricted areas. Every day they made their own snack and they assembled a bit of a recipe book. On Friday they made lunch too - the last couple of years this has been pizza, but this year it was macaroni and cheese. They also had face painting, a wagon ride and lots of games.
Elizabeth wore a different farm camp shirt for the first three days. Apparently her "toddler-sized" one that she got when she was four still fits. I doubt that will be true next year...
1
On August 13, 2015 at 01:14 pm
Grandma H
said:
My, oh my! What fun. What a wonderful farm.
2
On August 13, 2015 at 03:03 pm
Auntie Val
said:
Sounds like an awesome camp! Elizabeth got a bit of a taste of what I what I was raised on. Gotta love farm life!!!
You might also like
- Great Grandma Funeral
(0.47108)
- Farm Camp
(0.46386)
- Music Day
(0.463331)
- Summer School Summer
(0.462373)
- Cottage Days: Zip lining, Regatta, Squeegee
(0.458035)
All