August 2, 2015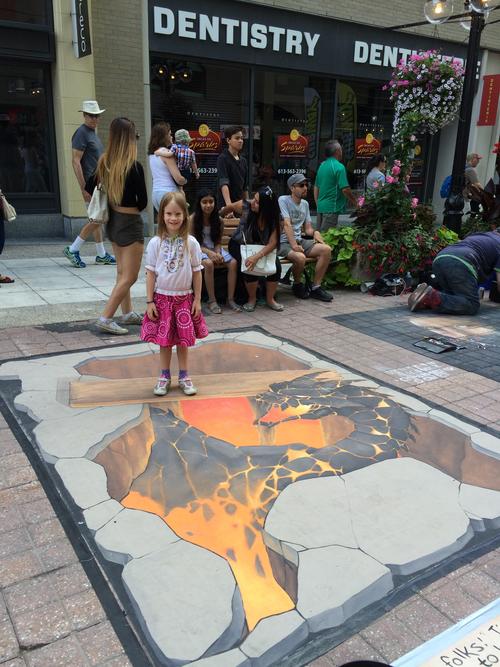 A dragon visited our church this morning for the kids talk series that has been happening all summer in lieu of Sunday School. He wanted to find out what a pastor does. "He brings stuffed animals to church" piped up one of the kids. LOL. Okay, well I thought it was pretty funny anyway. (I believe it was a dragon because our church used to be called St George's)
After church we decided to take advantage of already having paid for parking downtown and check out buskerfest. We've actually never been before. This is less surprising when you consider that there are so many summer festivals in Ottawa that at the height of it there can be a dozen different events happening in the same weekend. In any case, there was the girl who could juggle multiple diabolos and throw them a good eight stories high (she caught it too!). Then there was the "statue" who only moved if you threw money in his hat (genius busking act!). Elizabeth and I were not at all sure at first if he was a statue or a person. The rather incredible chalk artist. We saw a magician who explained how to steal a bicycle in Ottawa (he borrowed it for a trick and rode away lol). Then he took a lady's watch and ring and managed to enclose it in a tin that was locked in a basket that spent most of the show on a different lady's head. The first lady had to use a can opener to get it out. I'm guessing my cousin Marc could tell me how it was done as I heard that he did a similar trick with an orange and a five dollar bill. It was a pretty impressive trick, although I really wished the busker had gotten to the reveal much faster. After that we started watching an escape artist but it was too hot and he wasn't exciting enough soon enough to capture the attention of the kids. We finished up with "Fire Guy", who sounded really fun except that he blasted loud music during his setup. I thought his constant repetition of "Oh Yeah" was pretty annoying too, especially since the kids seem to have picked it up since. Said music was so extremely excessively loud that we were concerned about the kids hearing (especially the two youngest who were both sleeping by that point - recall that Matthew had been up since 5:30am after yesterday's camping adventure). So I moved to a quieter location and Elizabeth and Brendan watched the first five minutes of the show. Of course the actual show didn't appear to feature any music at all, which was weird. In any case the setup woke up Amelia and I had to figure out how to nurse her without dropping Matthew! Elizabeth was pretty impressed by all the "jiggling" (Fire Guy could apparently juggle five balls!)
We were kind of sad to have to leave but we consoled the kids with a trip to Home Depot for our latest project. And then we went to the splash park...
1
On August 13, 2015 at 01:21 pm
Grandma H
said:
That's quite the dragon!
You might also like
- Child Labour
(0.45178)
- How many weeks?
(0.446683)
- Karate Tournament
(0.445441)
- Healthy Girl
(0.445083)
- Summer Week 1 - Visiting
(0.444861)
All