August 3, 2015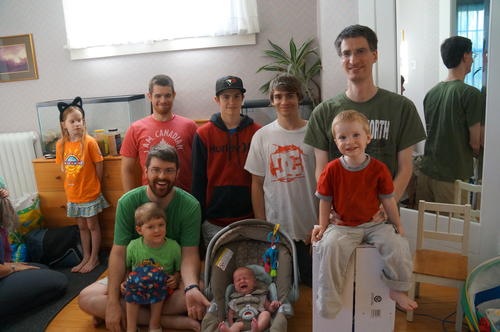 Aunt Mary (of the hippo house) has another house up north - or so goes the rumour. She had offered to have any of her nieces or nephews up for a visit and over about 20 years most of the nieces had taken her up on the offer but none of the nephews had. Joe, Will and Wyatt decided that perhaps now was the time to change this (given much prompting by Aunt Mary who is threatening to move down to the hippo house permanently). On their way they stopped in to say hello and much fun was had by all, including Dave and Karen who popped by with the kids for supper. We joked that they should be careful if they see a polar bear and then at bedtime Matthew put on his polar bear PJs and chased them around the house with much roaring (who knew that polar bears and lions and dinosaurs all sounded the same).
1
On August 13, 2015 at 03:18 pm
Auntie Val
said:
I love all the pictures!!...looks like all the "kids" were having fun!...and nice to see pics of the new babes as I'm not on Facebook -- so cute!!! Thanks for being such great hosts to our boys!
You might also like
- Decorating
(0.341223)
- Curly hair
(0.328897)
- Matt and Kelly wedding reception
(0.328786)
- Happy Birthday
(0.328571)
- Great Glebe Garage Sale
(0.327778)
All