August 6, 2015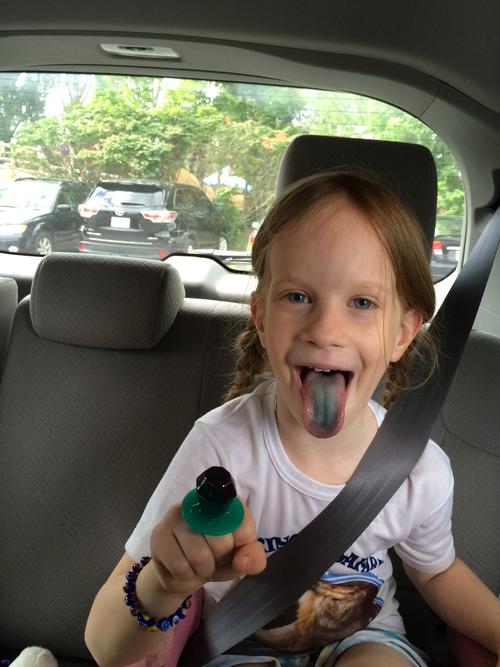 We've been doing a bunch of pet sitting this summer. We had Black Beauty the next door Bunny for ten days and just as we had to give him back we got to look after Iain's beautiful poison dart frogs!
The kids have really enjoyed helping with these because it involves pumping a spray bottle, spraying with said spray bottle, pouring bugs into a container and shaking the bugs until they are covered in vitamin powder. Matthew in particular has ideas about which kind of small bug I should feed the frogs - we have large flightless fruit flies, small flightless fruit flies and springtails. Elizabeth is more concerned about verifying that all the frogs receive adequate nutrition.
Today we also had an impromptu playdate with Dianne's kids. Then I finally fulfilled Elizabeth's great wish to visit the canteen at Dovercourt. Ever since circus camp she has really wanted to go, because one of her friends from the camp had bought candy there. She came home mid-week asking whether she still had "one hundred pennies" because that's how much she apparently needed. We rather incautiously told her we thought she could buy her highly coveted ring pop and she duly brought her money along to the last day of camp. But then the show took longer than expected and we had to go home right away to deal with an urgent work matter that had cropped up. I've been promising her that we'd go ever since.
Finally today I went with her clutching her hundred pennies in the form of a loonie. We got to the canteen. She holds out her money and tells the rather bemused kid manning the counter. "Look! I have ONE HUNDRED PENNIES." And then waits expectantly. I had to tell her that she needed to tell the kid what she wanted to buy!
You might also like:
-
Backyard camping
-
At Mary's
-
Valley View Farm
-
Matthew's first skating class
-
Hike in the woods