August 16, 2015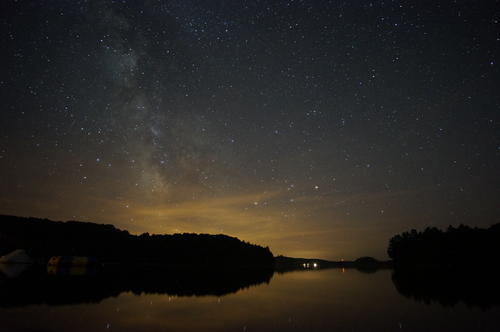 We have been attending Faith Baptist when in Huntsville and last year Elizabeth quite enjoyed their sunday school. So we were a little surprised at the groans when the kids discovered we weren't going to go to "our" church (St Peter and St Paul's Anglican Ottawa). "Why???!??" asked Matthew, who has recently entered the "why" stage with much enthusiasm. I explained it was too far away. "We would be late." "We can just drive really fast" he retorts. They did enjoy themselves once they arrived, though Matthew did a credible emulation of Elizabeth in her shy-don't-leave-me-mommy stage. But he stopped crying once I was out of sight and then made a craft and played with trains. They bribed him with cookies which he carefully saved to share with Elizabeth at the end. And both kids got chocolate at the end of class. So now of course they want to go to the "chocolate church" again.
It was super hot with no A/C back at the cottage (36C) so we decided to go out for lunch after church. Well, okay - I might have gotten some gluten-free treats at the Huntsville Wheat-Free Delights bakery first... And we let the kids play on the play structure although Brendan did keep telling me that Matthew's clothes weren't "suit-able" (ha ha). We tried out the weekend brunch menu at 3 Guys and a Stove which was a big hit with the kids. I was quite impressed as they washed the frying pan for me separately and cut fresh fruit away from any possible contamination. We were a bit surprised by how it worked - it turned out to be a quasi-buffet. You go up to where the staff are cooking and they ask you what items you want to eat - bacon, eggs, sausages, waffles covered in chocolate... I would go back.
In the evening Brendan went out on the dock to take more star pictures with his new lens. He's kicking himself for not remembering the tripod but I thought he managed some nice shots. While he was out there suddenly the wolves began to sing - they are super close to us this year which has meant we've only spotted one deer in the distance instead of the herds galloping across the lawn in past years. On the other hand - we don't have to worry about stepping in deer poo too much either! In any case, Brendan could hear the main pack singing from one side of the lake and all the puppies yapping in reply on the other. What a cool experience!

1
On August 21, 2015 at 05:39 am
Grandma H
said:
Great star pictures, Brendan! Amazing to hear about the wolves.

Actually there are some pretty adorable pictures of each of the kids as well. With that smile, no wonder Amelia has a fan club.
You might also like
- 5th Birthday Party
(0.427736)
- About the boy
(0.422343)
- TriKids Triathlon 2017
(0.422314)
- Music Day
(0.418466)
- Virtual school: Week 2
(0.417625)
All