September 26, 2009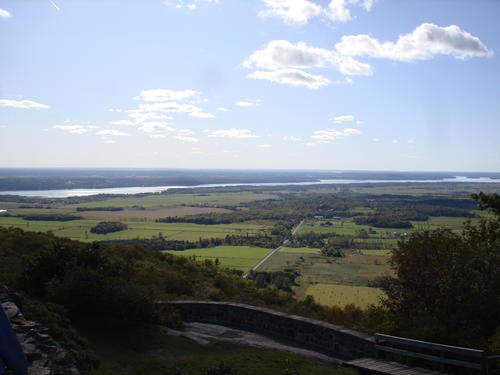 Gatineau Park has been in the news lately as the NCC conducts public consultations on its new recreational services plan. We thought we'd take Elizabeth to check out the fall foliage and investigate the latest iteration of the Champlain Lookout trail. Turns out the leaves are still pretty green. We could have figured this out using the NCC's Color Meter which indicates the percentage of coloured leaves and tells you whether the leaves are at their peak or not, but when it comes to hiking and admiring God's creation we feel technology is no substitute for personal experience...
1
On September 29, 2009 at 07:19 pm
Grandpa H
said:
I'm a little worried about the steering wheel photo... I suggest you don't let her see it until her wedding :)
2
On September 30, 2009 at 11:35 pm
Mary J
said:
I thought you might be more worried about the picture where I appear to be levitating. Or at least leaning on nothing at all.
You might also like
- Carols and Lessons
(0.319559)
- There's a hole in our backyard dear Liza
(0.29875)
- Skating
(0.293923)
- Capital of extremes
(0.29351)
- Snow!
(0.292101)
All