August 28, 2015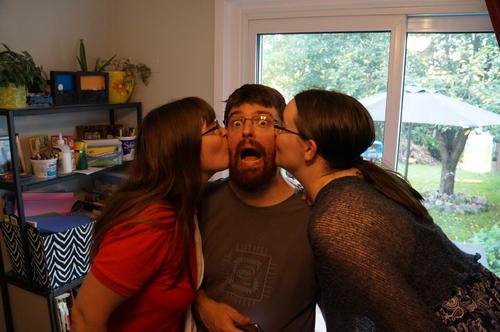 Auntie Muriel came to meet the babies and we took the opportunity to celebrate Uncle Dave's birthday while we were at it. I think Matthew ate his weight in broccoli salad and corn.
Theo is now bigger than Amelia again - he's grown a ton while we were away at the cottage. Uncle Dave is leaving for Sweden tomorrow to get a week's worth of training at his new job. There were many IKEA jokes.
Uncle Dave spent too long pretending to blow out his birthday cake candles, so Auntie Karen helped him out. The cake was very, very good.
1
On September 10, 2015 at 10:04 am
Grandma H
said:
Amelia, this is not a contest you will win. But you will always be older! ;)
You might also like
- Flattening Grandma and Grandpa
(0.310178)
- Baptism Birthday
(0.304124)
- Museum and Birthday
(0.3)
- The Works
(0.298211)
- Summer school week 6
(0.296482)
All