September 20, 2015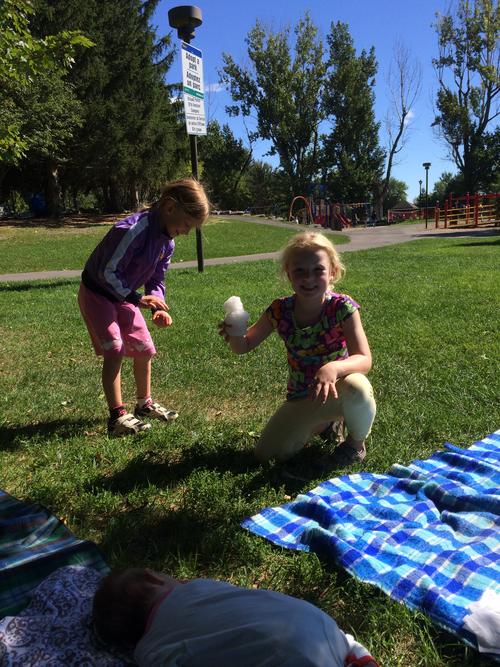 Brendan was complaining that it was cold this morning but I laughed at him.
After church we went to Brewer park for a picnic and played with Adi, her brother Tristan and her moms.
Brendan grabbed a hunk of ice on his way past the arena and chucked it at me. "See!" he crowed. "I told you it was cold this morning!"
Then we told the kids it was snowing. There were BIG eyes. Adi totally believed us. Elizabeth was highly skeptical. But they were quite happy to make the first snowman of the season. Then Lise-Anne treated the kids to ice cream from the ice cream truck. Adi and Elizabeth settled on ice cream sandwiches, while Tristan and Matthew had a batman ice cream with gumball eyes. Brendan got to finish it off (it was HUGE). Apparently it tasted blue. The girls got the gumballs...
We bumped into Tom and not-so-little Claire at the park too - pretty fun that they live so close that this is a thing now!

You might also like
- Virtual School: Week 21
(0.328147)
- Winter came back, the very next day
(0.326014)
- Christmas Eve
(0.325495)
- Iain and Renee
(0.324324)
- Vera, Astra and Magnus
(0.321839)
All