September 27, 2015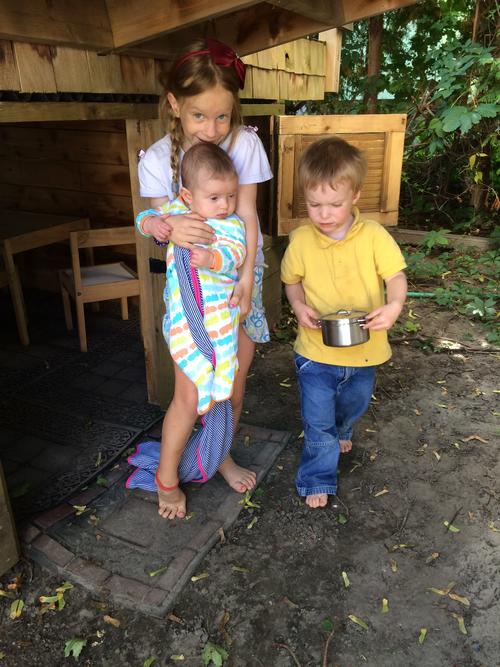 Elizabeth and Matthew invited Amelia into the playhouse for the first time today. Mommy was only invited long enough to remove a very large, fuzzy and allegedly scary caterpillar.
Then they played house together for a while, which was confusing because Matthew was playing Mommy and the other two were babies. "Amelia can't really be anything else yet" explained Elizabeth. I kept interrupting their game responding to the constant calls of "Mommy!" until finally Elizabeth suggested that they refer to me as "Real Mommy" for the rest of the afternoon.
When they got tired of house they made gluten-free mud pies for a while before suggesting we go to the park. Along the way they decided to ask our new neighbours a couple doors down to come too, which was exciting since their nearly three kids are almost exactly the same age as our three (number three is coming in a couple of weeks). It's probably the last time the splash park will be operational and the weather warm enough but Elizabeth, Simon and Martin all went swimming. After a suitable interval on the monkey bars (Elizabeth) and swings (Matthew), of course. At the park we bumped into some of Elizabeth's friends from school and discovered that not only does one of them live around the corner from us, but their old neighbour just moved across the street from us last year. So all of a sudden there are tons of kids around that my kids are friends with and could theoretically go play with - without having to do a massive playdate coordination with parents first!
1
On October 29, 2015 at 11:59 am
Grandma H
said:
Great to have friends to close!

Gluten free mud pies. Hmmm. Not tempted. Unless they are nicely decorated.
You might also like
- Mother's day
(0.393182)
- Grading
(0.388565)
- First day of "preschool"
(0.387597)
- Family Day
(0.386545)
- Matthew's first piano recital
(0.386187)
All