October 2, 2015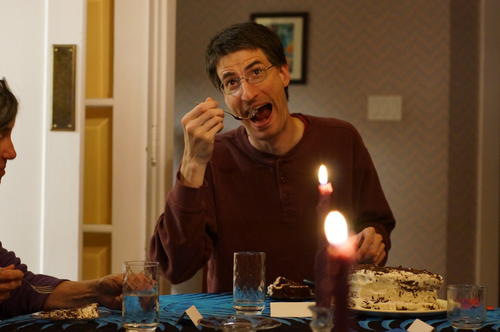 Lasagna, garlic bread, Caesar salad, corn and black forest cake (suitably modified to be gluten and oral allergy syndrome free) - it's the birthday boy's traditional meal!
Auntie Janice had too much fun wrapping her gift card. Brendan teased that he had flashbacks to when she was seven. She has ALWAYS loved wrapping things - when they first met she was going through a phase of wrapping a gift for anyone new. Said gift usually had about ten or twelve layers of paper, and it was the act of unwrapping that was obviously important as the gift was usually a random drawing. Or a Kleenex box!
Uncle Dave arranged the candles to be perfectly level with the help of an iPhone app, so they wouldn't drip. I might have given him a harder time than I should have...
You might also like
- Erika turns 12
(0.317901)
- Party weekend continues
(0.311828)
- Brendan's party
(0.30648)
- Erika is FIVE
(0.305825)
- Pooh Sticks
(0.30575)
All