October 25, 2015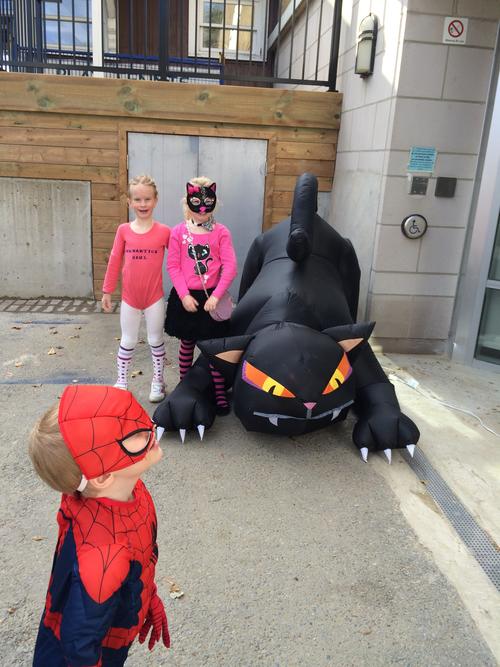 We invited Adi to come with us to the local community centre's annual Halloween party, where Gymnastics Girl, 'PIDER BOY' and Monkey baby tried out their costumes. Auntie Janice gave us a sneak peek at her costume too...
Matthew was sad that he was too short to go in his favourite bouncy castle, so Elizabeth helped him on the other one with a less strict height guideline. After the bouncy castles the kids went around to all the stations and got their requisite prize stamps to trade in for candy. There was much sugar consumed. "Want an extra bag of candy for good luck?" the volunteer asked? "Want to fill in another sheet to get another prize?" NOPE.
Matthew did all the same games as the older girls except for pin the coconut on the palm tree- he flatly refused to be blindfolded on the grounds that it was too scary.
We also went to a short Halloween play that ended with candy being thrown into the audience and walked through the haunted house (*not the one that came with a disclaimer stating no kids under eight though*)
I was amused to find myself bumping into all kinds of kids and parents that I knew. I guess we've started to actually get to know our neighbourhood!
You might also like
- Cooking Class
(0.375148)
- Halloween
(0.374424)
- All Saints and GNAG Halloween Party
(0.370582)
- Great Glebe Garage Sale
(0.363636)
- Dance Camp
(0.359212)
All