October 12, 2015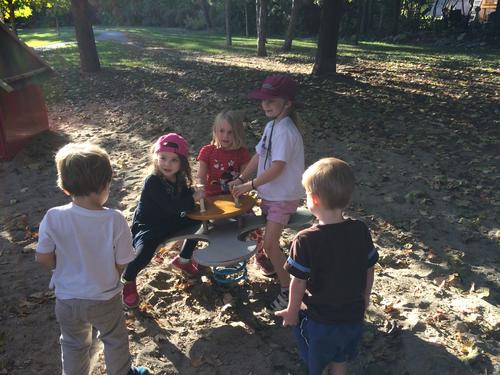 Remember Baby Summit 2010? We got together with most of those not-so-baby kids again for a 2015 edition and this time the babies were old enough to play at the park! Amelia was the only actual baby this time around though. Francis and Victoria were there in 2010 even though we didn't get a photo for some reason. But Claire was in Toronto back then, and Natalie and Theo were across the pond this time. Simon and Matthew of course are more recent editions.
I was still not feeling that great, but it was really nice and warm so I figured a little fresh air couldn't hurt too much. There were lots of muffins, which were appreciated by my kids in great quantity.
Claire is a great organizer and kept trying to get all the other kids to line up and do various things. Elizabeth was quite willing to humour her except that she got confused by the rapidly changing and often conflicting instructions. "Hold my hand" Claire demanded, but then wouldn't put out her hand. It was most amusing, especially when Elizabeth later confided that "maternelles are like that sometimes". There was much playing. The dock was super attractive and everyone crowded onto it until it started to sink. After that we took turns.
The conversation was fun, the company was brilliant and it was totally sad that I wasn't feeling very well. Hopefully the next summit is sooner than 2020!
Elizabeth was sad that Nora couldn't come home and have a sleepover. We've promised to go to Boston in the spring...

1
On October 30, 2015 at 01:56 pm
Mary @ Parenthood
said:
Oops - Tom points out that Claire wasn't born yet in 2010. I knew that... Silly me ;)
You might also like
- Ultrasound
(0.401804)
- Broken nose
(0.396985)
- Social Distancing: Day 3
(0.396568)
- Music
(0.394203)
- Amelia 21 months
(0.39171)
All