October 11, 2015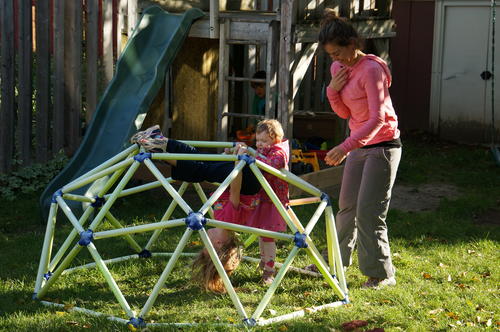 After the apple picking hijinks my cold took a sharp turn for the worse. I seriously contemplated staying home from Thanksgiving dinner, but Matthew probably wouldn't have gone happily without me and the idea of no dinner plus dealing with the two youngest didn't seem appealing. Besides, I was sure it was mostly asthma, lingering on from the bad cold I'd been fighting.
But as the day wore on, my cough seemed to get worse. I probably should have taken my temperature at that point as I discovered a few days later that part of the problem was a persistent fever over 38.6C
I started to make food, but needed to deal with Amelia and asked Brendan and Janice to finish up. I had also been planning to make the pies, but was too cold to get out of bed and Amelia was not cooperating. So Janice took over and made her first pies ever! She tried three different recipes and we all got to compare. I was pretty thankful not to be cooking. It's probably a testament to how sick I was that I don't really remember much of Thanksgiving dinner.

The kids look like they had fun in the photos though! The jungle gym thing is from Just Play Toys rental place. Xander picked it to play with for a month as part of his birthday present. Elizabeth thought it was awesome!
You might also like
- Michael's birthday
(0.388636)
- Decision making study
(0.388095)
- Quilt Show
(0.384615)
- Party
(0.384199)
- Happy New Year!
(0.383971)
All