October 10, 2015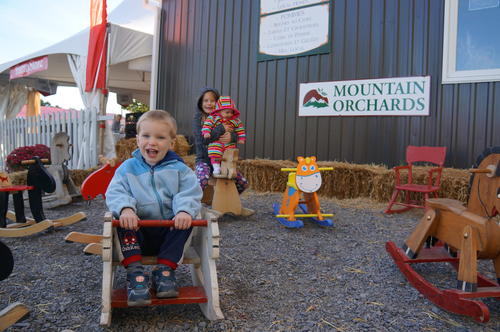 I had rashly promised the kids we would go apple picking another day on the day of the nose, and it turned out that the twelve thousand visitors had pretty well cleaned out Mountain orchard the weekend we tried to go. Dianne told us that by the time they made it out there were only windfall apples left. I looked up a few other orchards in the area, but the season was pretty much over early this year. In fact, Kilmarnock didn't even open this season due to an unseasonal frost in the spring.
So I knew that if we were going to go apple picking this year, this weekend would be the last possibility. I also thought it might be a good idea for Elizabeth to go back to the scene of her accident as she was declaring that she was never going to play in the straw jump ever ever again. The weather was a little chilly, but it was sunny and we figured that we'd better seize the moment. So we called Auntie Heather and headed to the orchard.
The kids really enjoyed their tractor ride and picking up apples from under the trees. Elizabeth at first refused to go into the straw jump place but I talked her into taking a picture with the wooden people and after that she suddenly was willing to play a bit in the straw (but Very carefully). No one was hurt and I think Elizabeth slayed a couple of bogeymen - she was certainly proud of herself and we were proud of her too!
The man at the orchard giving instructions had heard about Elizabeth's accident and was very happy to see that she was okay! There was much playing in the playstructures and wandering through the corn maze. Elizabeth would have liked to stay longer but Matthew and I had both had colds the previous couple of weeks and while we had been on the mend Matthew didn't seem to be feeling that great. And actually, I was also feeling rather chilled so was happy to head home.
You might also like
- Broken nose
(0.430785)
- Nationals
(0.421004)
- River Oak
(0.420889)
- Party Day
(0.415401)
- Halloween
(0.413146)
All