November 3, 2015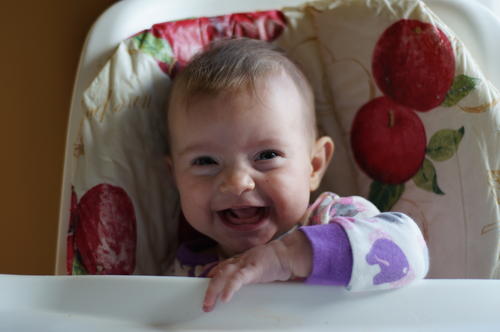 At five months, Amelia loves to play! She has a very long attention span and a wide infectious grin that she bestows liberally on everyone (especially her siblings). Her desire to grab things - and stuff them in her mouth - has fuelled her determination to conquer her limbs. Result: she is now rolling easily from front to back and has started "flying" - the precursor to crawling in our experience! In fact she is somewhat mobile, as we keep reminding the older kids after she slithered over to Matthew's baby dinosaur and very nearly ate it!
She's now tried out the exersaucer and the jolly jumper. The exersaucer is slightly more useful because the toys are attached; the problem with the jolly jumper is that she tends to lose her toys and then shrieks until someone brings it back. She really likes her toys, though she does get frustrated when they don't play the way she wants. A favourite is a bead maze along which she loves to push the beads. But then she yanks the whole thing over to gum and not only does it bonk her on the head every single time, but it doesn't fit in her mouth! (If this was a hashtag, I'd choose #babyproblems!)
Amelia now joins us at the table for meals from time to time. Singing prayers and getting to hold hands with Elizabeth is hugely popular, although she also seems to enjoy Daddy helping her with the actions to Johnny Appleseed or the Superman grace. She loves music class, loves watching her siblings at their various extracurricular activities, and eating anything she can stuff in her now more drooly than puke-y mouth (yes, she's teething...)
Still don't have a good sense of when she naps, but she sleeps a lot and often just passes out wherever she is. Despite much napping she generally sleeps most of the night too. I hope this continues!
1
On November 15, 2015 at 10:20 pm
Joanne
said:
Amelia is adorable. She looks so happy in this picture!
You might also like
- Matthew turns 8
(0.424893)
- 7.5 ish years
(0.420508)
- Two!
(0.419869)
- 11 months
(0.418469)
- 19 months
(0.415804)
All