December 6, 2015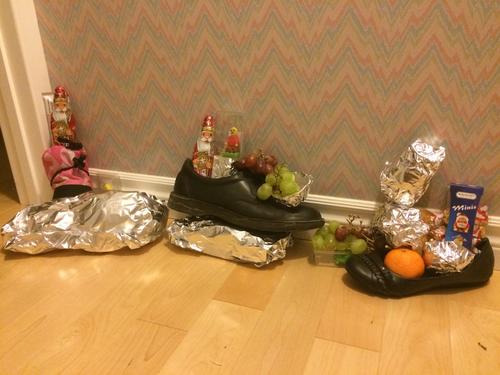 Matthew came up at 7am St Nicholas day and since we'd been up so late the night before I made him wait three quarters of an hour before waking the rest of the house. When I went into wake Elizabeth, I was surprised to find her topless. "I'm not feeling well", she sobbed, before throwing up all over her bed.
Turns out she had thrown up in the wee hours of the night as well, but because I'd told the kids St Nicholas would only come if they were quiet, she didn't want to call for help in case she scared him off. ("But Elizabeth", I said, "Is St Nicholas a true story or a pretend story?" "It's pretend", she said "But we make it true") So anyway, I felt like a horrible mother when I realized my kid had cleaned up the best she could, flipped her pillow over and gone back to sleep in her own vomit in order to avoid waking anyone else up.
She did perk up enough to open presents, and was quite excited to find a perplexus maze ball. Matthew received a build-your-own train/airplane/car constructable, which is very cool aside from making the most obnoxious "sensory noise" imaginable. We actually thought it might be defective, until we read the reviews online and discovered many other parents were also surprised to find it makes this noise on purpose. Apparently it can be disabled. I'm hoping this happens soon. Amelia seemed to approve of St Nicholas, although no one actually let her eat any chocolate. Or tinfoil. Or tape. Matthew and Elizabeth aren't going to eat their marzipan creatures. "It's too cute."
Lorianne approves of Ottawa-style St Nick.
Elizabeth was fine for a while but then after a badly needed afternoon nap she started throwing up again. And again. And again. We moved her to a mattress on the floor instead of the top bunk after an unfortunate incident involving no bucket, a desire NOT to throw up on her new sheets, leaning way off the top bunk and gravity. SO GROSS. I was SO happy to have two washing machines. The floor is never going to be the same though; took the finish right off.
You might also like
- Christmas Pukefest
(0.438169)
- Calypso
(0.43038)
- Ski Show and Douvris Halloween
(0.42483)
- Fancy hotel
(0.422367)
- Digger
(0.416595)
All