December 13, 2015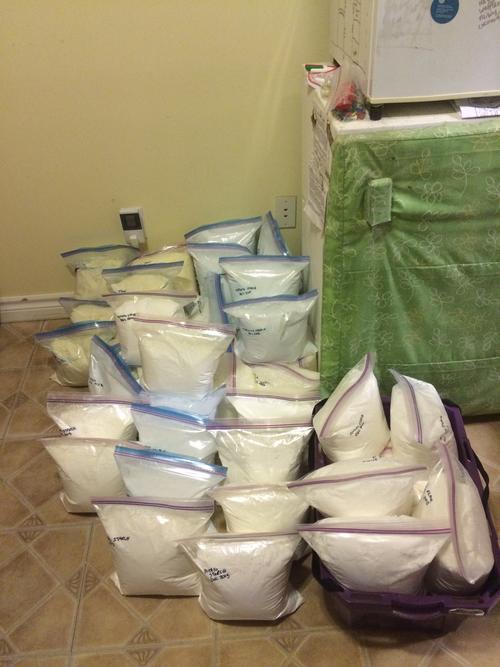 The regulations in Canada recently changed such that bulk bins are no longer allowed to make a gluten free claim for gluten free items that are opened on the floor. It's too easy for cross-contamination to occur. I had been dithering back and forth for some time as to whether gluten-free flours from Bulk Barn were safe (many fellow celiacs on the various celiac advice boards that I follow felt strongly that they were not), but this ruling clinched matters for me.
Our local bulk barn has pretty good procedures in place but I feel that now that items are not marked gluten free and the policy is officially that cross-contamination is inevitable it really isn't safe for me to consume flour from Bulk Barn any longer.
That posed a problem, because flour from the grocery store only comes in about 2 cup packages. It's more expensive too. I queried other celiacs to find out what they were doing. Seems like I may bake slightly more than average (!) but of those looking for bulk flour, some were ordering from the States, and some were still risking Bulk Barn or similar, some were buying a million small packages. Then someone mentioned they buy their flour from Bulk Barn unopened at a 20% discount!
One thing led to another.
I ended up ordering approximately $400 or 250 pounds of various flours (my favourite pancake mix, and ingredients to make up our favourite gluten free all purpose flour blend - rice flour, corn flour, corn starch, potato starch and tapioca starch). Janice was amused to discover that the corn starch had an explosive powder warning on it.
The Bulk Barn didn't require me to make any kind of deposit, but I was warned they would want me to come and get it the day it came in (Saturday, approximately two days after I ordered). They called about three times on the Saturday before they were able to speak to me - I gather it was occupying the manager's office. Then I made the cashier's day by paying for it and gingerbread supplies at the same time. "You're my new record for highest overall sale" he exulted. I couldn't even pay by credit card without triggering a manager's override (Manager: "I've never seen THAT before"). I guess most of their bulk orders are companies rather than individuals buying retail.
I now have my own gluten free Bulk barn in the garage as the rest of the house is too hot!
1
On January 4, 2016 at 10:32 am
Grandma H
said:
I think you guys need a freezer now. That picture of Janice looks like she is gleefully mixing up some explosives!
You might also like
- Pandemic ER
(0.413617)
- Child Labour
(0.403642)
-
(0.403169)
- Homeschool wk apr 20-24
(0.40295)
- Hawaii
(0.4)
All