December 24, 2015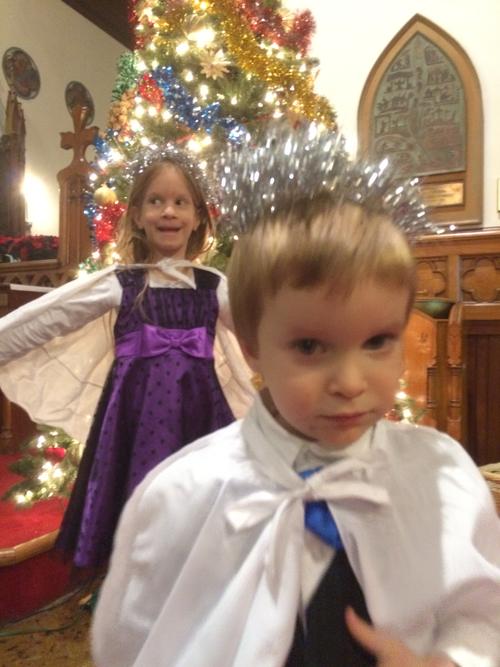 Brendan and I spent Christmas eve madly running around doing workish stuff followed by last minute Christmas prep stuff (aka buy fondue meat and FIND MATCHING PJs because somehow we misplaced the six month size of the moose pjs that Matthew and Elizabeth already have). Matching PJs is a thing but this year they were insanely hard to find for some reason. Elizabeth desperately wants footies but they only had size 6s (probably too small) or size 10 (definitely too big) left. I might have tried the 6s except they were final sale and they didn't have a matching infant size. So that was quite unnecessarily stressful given that I'd been looking for PJs since September. Auntie Janice took the big kids off to the Aviation museum (and the candy store!) on an adventure so we didn't have to worry about them which was appreciated by all.
Matthew wanted to be an angel just like Dee-Dee but he wasn't terribly happy about the "tickly" tinsel on his head. He decided maybe he'd rather be a shepherd. But then he didn't want to be a shepherd. So I suggested he be both and he brightened up considerably. Then he got to carry baby Jesus down the aisle to the crèche after Anabel heard him cooing over the baby and wanting to cuddle it. Matthew was actually pretty cute about it, although I think he was a little disappointed it wasn't a REAL baby. "Me got a REAL baby", he said. Amelia slept through most of the service and although I attempted to give her a halo Matthew didn't want to share, opting instead to shred little pieces all over the pew. (Of course) But although it was perhaps not the smoothest pageant ever my kids quite enjoyed themselves and proved that they were listening to the story over Christmas week so that probably counts as a success! And the music was lovely, thanks to Godmother Rachel who organized it all this year.
After church Grandma, Auntie Janice and our family gathered together for cheese and Chinese fondue, which was great fun. The kids got to bed very, very late.
You might also like
- London
(0.416367)
- Christmas Eve
(0.409465)
- Elizabeth's 9th birthday party
(0.406422)
- Healthy Girl
(0.403574)
- Halloween
(0.401724)
All