December 25, 2015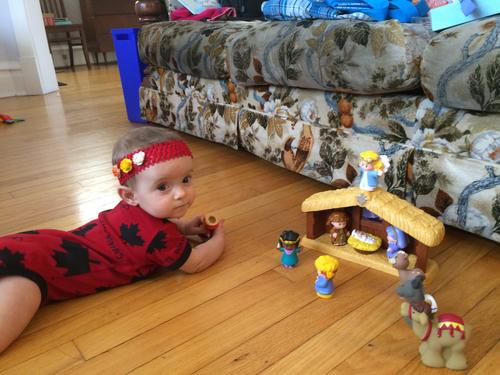 On the first day of Christmas my true love gave to me... kids who rip and dump stuff everywhere in two seconds flat. Yikes! Matthew picked up his stocking turned it upside down and shook it until it was empty. It was terrifying and a good reminder for next year not to put anything fragile in there. They also did not really pause to even breathe while opening presents. Our house was clean and tidy in the morning before everyone got up and by the end of the day you could have sworn the place had been ransacked. Aside from these minor details it was a delightful day filled with as our Bible verse of the week recently reminded us: "good news of great joy for all the people".
It was so unseasonably warm for Ottawa (Christmas eve was 18C!!!) that Elizabeth and Matthew went outside to get fresh chives from our garden in their bare feet! Pretty amazing that we still HAD fresh chives, although admittedly these were the ones from Grandma's more sheltered balcony and therefore had missed the October frosts that killed the rest of my garden.
Elizabeth and I went for a bike ride together to the arboretum. Matthew, Elizabeth and I went for another short walk / tricycle / bike after Matthew's nap. Matthew insisted on bringing all the new stuffies for the ride. And baby Jesus. As one does.
Janice carved the bird for her first time after the boys started being all "not it!"
You might also like
- Bogonning
(0.389011)
- Chickadees
(0.388708)
- Little Camper
(0.382831)
- Camp Otonabee
(0.382388)
- Decision making study
(0.375697)
All