December 26, 2015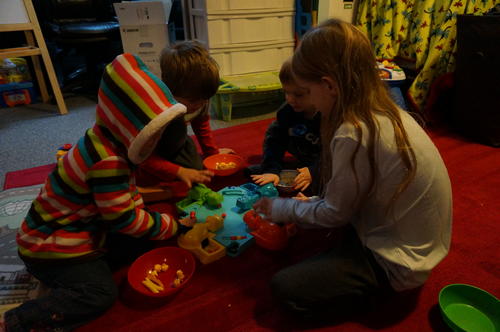 As per tradition, we spent part of Boxing day playing games at Dave and Karen's house. The older four kids are actually old enough that they played a new board game by themselves while the adults tried out Munchkins (Woohoo!). We had enough fondue meat left over from Christmas Eve to justify having fondue again - reminding me that butcher shops seem to think we need about twice the amount of meat per person as compared to what we actually eat.
We admired various gifts (Uncle Dave is getting more and more serious about sous vide!) and the kids enjoyed playing with the new Apple TV. Brendan was amused that they all held the remote for the car game as it were a bicycle handlebar.
Xander's school has a program where families send in unwanted items during October and November. Then the youngest kids are paired with the oldest and they all go "shopping" for members of their immediate family with a list of names, ages and relationship to the shopper. All items cost fifty cents and then there is free gift wrapping. Xander got his sister a cute hello kitty stuffie, Uncle Dave got a "scary" movie (lol) and Karen received a gingerbread soap dispenser. He came home on the bus with his four gifts and Karen said he was SO PROUD. Such a good idea for a fundraiser!
After supper the kids all bathed (oldest two and youngest two in pairs; they have now been deemed too big to all fit together in the tub!) and I read them a story. Xander was very sad that cousins were going home instead of having a sleepover so he and Elizabeth had a little cuddle during the story (so cute!).
Auntie Janice came to hang out after work in time for supper. Unfortunately, the kids were eating applesauce and then of course dipping their forks back into the fondue pot and probably because she arrived part of the way through the meal we didn't think about this being unsafe for someone allergic to apples until it was too late. Cue her being super unwell and needing to take her epipen. The kids were concerned, but more jealous of getting to ride in the ambulance. Until Elizabeth remembered Matthew already had an ambulance ride and she got to sit in one. Then they were slightly mollified.
You might also like:
-
Visiting Great Grandma
-
Rideau River Provincial Park
-
Halloween
-
Welcome 2019
-
Homeschool wk apr 14-17