December 28, 2015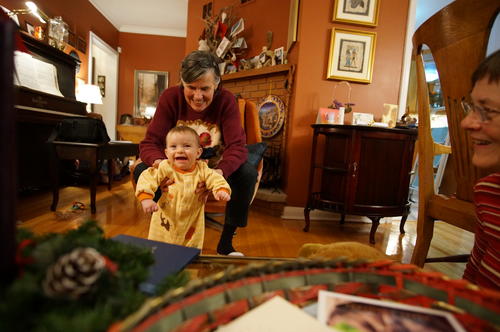 My mom's side of the family was getting together for Christmas on the 30th, so we planned to stop in Toronto to see Muriel, Lauren and Donna and family and Uncle Ryan.
Brendan's mom came along with us and with seven people in the van for Amelia's longest car ride yet we were a little concerned that the kids might not be well behaved. But they made forts out of coats and pillows, did some colouring and generally did very well. Amelia slept and played all the way until about five minutes before we arrived, which was nice.
Matthew and Elizabeth were very happy to introduce Grandma Margaret to the joys of waiting anxiously for the cuckoo clock at Auntie Muriel's to come out so that Elizabeth can play her "cuckoo whistle" at the same time. Amelia seemed rather bemused.
1
On January 21, 2016 at 08:27 am
Grandma H
said:
Making forts DURING the car ride; now thats a first.
You might also like
- Auntie Muriel's
(0.359877)
- #Jessdoesthemath
(0.338377)
- Flattening Grandma and Grandpa
(0.338257)
- Sheep Shearing
(0.337662)
- Boxing Day
(0.337296)
All