October 6, 2009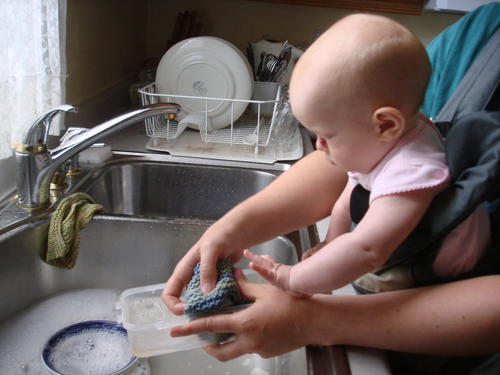 Now that Elizabeth can crawl, she can get into so many more things! She likes to "help" about the house. Washing dishes and getting things out of the cupboard are two popular activities, but all time favourite is crawling onto the bathroom scale to weigh herself. She's also keen on Rosie the Roomba. We suspect she'll join the ranks of Roomba babies quite soon...
Mom and Dad are definitely not emotionally prepared for all the bumps and cracks that seem to go along with the crawling and standing though. Most babies apparently are fairly careful around sudden drops, but Elizabeth is not. It might be a toss up between whether we're going to bubblewrap our house or get Elizabeth a large padded "hamster" wheel.
1
On October 8, 2009 at 10:39 pm
Audrey
said:
Oh, Elizabeth you are going to keep your parents on their toes. Mary, i suggest you make one of the cupboards one that she can play in, and the rest have kid proof closures. Now do you know why I used to have a plastics cupboard down low?
You might also like
- Seven Months
(0.33635)
- Cottage Days: Jack and Olivia
(0.333333)
- Old fashioned Christmas
(0.330137)
- 10 Months!
(0.327168)
- The unsuspecting sleeping baby...
(0.326057)
All