December 30, 2015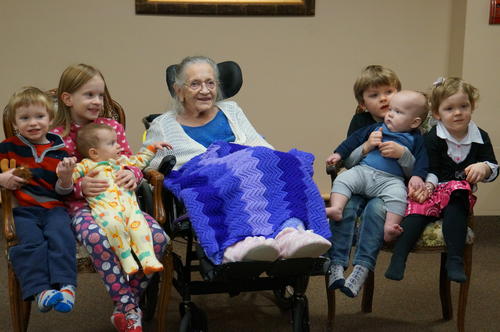 My grandmother is extremely ill and is now considered palliative.
So my mom came home from Angola to visit for some of her last days and in anticipation of a funeral. My mom hasn't been too well herself - some of you know she was recently quite ill with malaria followed by typhoid followed by an allergic reaction to the antibiotics that were supposed to be helping her - so we were very glad that she was well enough to travel and to see for ourselves that she is in fact on the mend!
There was some question of whether my grandmother would even make it to our big family gathering - she was hallucinating things like fire on her lap and some days not really responding at. One of my aunts thought it prudent to warn us that we wouldn't see the Grandma that we were used to. So it was quite surreal to get there and have Grandma come down in her wheelchair and interact with all of us completely normally. She was talking and joking with us, and remembered all of our names - even Brendan's mom, whom she has not seen in years! It's clear she perked up immensely for our visit ("I got to see my great grandchildren!" she gloated to a nurse). Even though she was so poorly she still arranged for presents for everyone. Girls got slippers and boys got socks. It was bittersweet that we got to have such a good visit and even managed some great photos, as we were very aware these would probably be the last time this side of heaven. Some family didn't arrive until later but we thought it best not to wait and I'm glad we didn't as Grandma did get tired quite abruptly. She didn't even remember getting back to her bed!
After Grandma went back to bed there was still much partying to be done and good food to eat. Cousin Chris was taught the proper way to flame a Christmas pudding with the booze we smuggled into the nursing home for the purpose. The kids mostly ran around playing a game that turned various uncles into tickle monsters, but Elizabeth surprised me by getting absorbed by a board game. She's growing up!

1
On January 28, 2016 at 07:07 am
Great aunt Judy C. Bender
said:
Great Grandma looks soooo happy!

What great pictures!!
You might also like
- Christmas Pukefest
(0.407946)
- Christmas
(0.400831)
- 21 Months
(0.400706)
- Lorianne is home
(0.39982)
- Dr Lynn is leaving :(
(0.399332)
All