January 3, 2016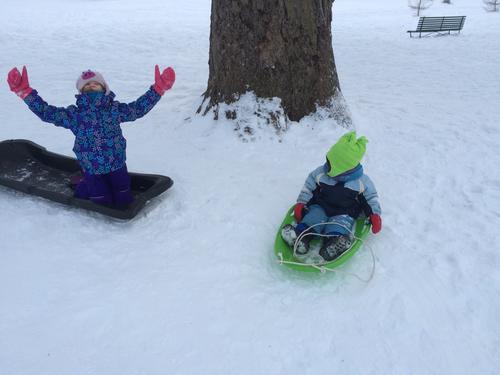 I took the kids sledding (or "Bogonning" as Elizabeth likes to say) for the first time this season as we FINALLY HAVE SNOW!!! Yahoo! We got about 26cm while we were away apparently and came home to a driveway full of snow and cranky notes on our mail from the mailman. Auntie Janice's car was so covered in snow that she had to shovel out the door in order to open it. Then she moved it forward so that Brendan could get the snow blower out and Brendan had to shovel her out again because she was trapped!
The kids are LOVING it. Anyway, I drove to the Agriculture museum because I figured it was probably too cold for the kids to walk all the way to the Arboretum and back in addition to sledding. But there was no parking at the Arboretum. We randomly ran into Elizabeth's teacher at the top of the hill, which was amusing but also nice because I realized I'd forgotten to warn her that Elizabeth was going to be late for her first day back at school tomorrow due to an optometrist appointment. Ottawa is a small town, you guys!
The first time down any hill is always terrifying to me and I insist on holding onto the sled and kind of sliding with it. Plus I don't let the kids go down from the top of the hill, or at the steepest part. I'm such a spoilsport. But I gradually loosened up. Elizabeth didn't think it was fair that Matthew got to ride up the hill as well as down, but it was rather steep. After a while we went to a less insane part of the hill and I let Elizabeth go by herself. And then we started all going in the sled together because it was faster and I still didn't want to let Matthew go. Elizabeth wanted to keep sledding but Matthew was starting to get cold. I realized I probably let them do one too many runs because it was a good ten minute walk back to the car and by the time we got there Matthew was thoroughly chilled and both kids were wailing about how cold their hands were. But after a bit of warming up in front of Curious George and some hot chocolate they wanted to know how soon they could go back.
Less fun was Janice needing a second ambulance ride after a second epipen since Christmas.
You might also like
- Chickadees
(0.427521)
- 52 cm of Snow
(0.407098)
- Michael's birthday
(0.403689)
- Gingerbread the 20th
(0.401541)
- Virtual School: Week 12
(0.400722)
All