February 13, 2016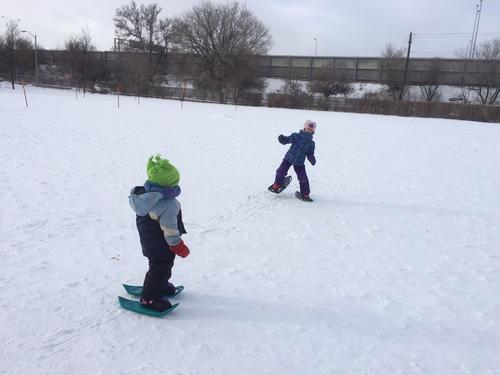 It was -45C with the windchill here (-29C "real" temperature) so obviously it was a good day to introduce the kids to snowshoeing.
Grandma J gave the kids snowshoes for their birthdays and they were too excited to wait until it warmed up to use them. We put on two pairs of everything except underwear, three sweaters and our warmest winter gear. We drove to the park, hopped them out of number one pair boots into snowshoe attached boots (my kids have two sets of boots each) and off they went. They both could easily march around - Elizabeth even started running. She wanted to stay out longer than the short time I had decided was safe for Matthew but mindful of the "extreme cold weather advisory" complete with advice about how to treat frozen eyeballs I didn't want to overdo it. So we drove home for hot chocolate and nachos. No one got frostbite but I was glad we didn't walk to the park as I think that would have ended badly.
Auntie Janice helped demonstrate some cold weather science for Lorianne (we did bubbles too but no photos - it was too warm by the time we got around to that). And then it was time to say goodbye to Angie until next year. The kids were very very sorry to see her go.
1
On March 8, 2016 at 03:14 am
Grandma H
said:
Great pictures! Love how you find fun things to do in the cold; glad everyone's eyeballs were fine!


You might also like
- Winterlude (Ice slides)
(0.368231)
- Lac des Loups
(0.362914)
- Christmas
(0.358324)
- Happy Birthday Janice!
(0.358056)
- Rachel and Andrew
(0.355342)
All