February 12, 2016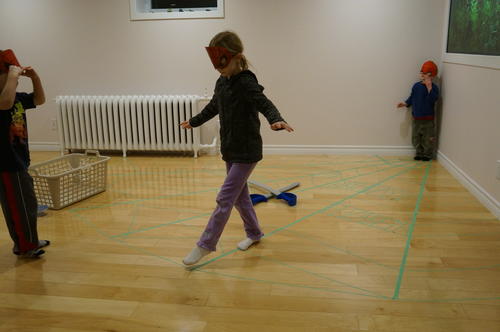 Elizabeth and Matthew had a hard time deciding on a "theme" for their combined birthday party. Matthew wanted Spiderman. Elizabeth did not. Matthew wouldn't budge, so eventually we settled on "My favourite things", which basically was . Spiderman and Minnie Mouse plates. Yellow (Elizabeth's current favourite colour) and green (Matthew's current favourite colour) napkins. The kids also got new cups, because Matthew really wanted one and he also really wanted Isabelle and Xander to have something to take home after the party. Well okay then!
The kids asked for broccoli, spaghetti and meatballs for supper. Elizabeth wanted an elephant cake. Matthew wanted spiders (of course). The cakes had to be chocolate.
We might have done slightly more spider-themed games - I figured that Elizabeth would get her fill at her friend party later this month. They had to retrieve balls with tongs without touching the yarn "web" and walk along tape on the floor avoiding obstacles. They would have liked to keep the tape for much longer, but Daddy was a bit afraid it would damage the finish.
This *might* be the last time we get away with combining birthdays, we'll see...
1
On March 8, 2016 at 02:57 am
Grandma H
said:
Love the pictures of Matthew and his cake, Angie and Elizabeth, and E hugging Theo. Elephant cake!Lots of fun
You might also like
- Thanksgiving
(0.361905)
- Xander
(0.361832)
- Smiley Face Pancakes
(0.358757)
- Piano Recital
(0.353994)
- Crachel
(0.353741)
All