January 30, 2016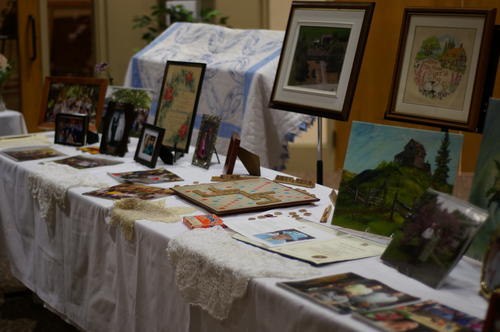 My grandmother has finally been released from her old body and is headed on her next adventure. It goes without saying that we will miss her greatly.
We headed down on Saturday immediately after karate. We stayed briefly during the visitation but left after about half an hour in order to put the kids to bed. It was nice to catch up with cousins, aunts/uncles and great-aunts/uncles during the meal provided for us beforehand. Elizabeth especially enjoyed playing with Isabelle's new doll that requires soothing or it will cry quite realistically. I do not quite know what to say about crying dolls aside from that if my kids ever get one I suspect we will experience a sudden battery shortage.
The kids were mostly well behaved during the ride, though Amelia was done before the car ride was over. I amused myself greatly texting pictures and status updates to Dave and Karen, who were travelling down at the same time. They reciprocated with their own pictures and horror stories about bathroom break pit stops. Xander texted us to say "I don't need any wheels 'cuz this car is going into space!"
Other trip highlights: I let Amelia eat paper because we didn't want to stop in Toronto. By the time we hit Cambridge, we'd decided we weren't going to stop. As I put it to Dave: "Mainly because I think A will utterly lose the plot if we stop and then put her back in the chair of doom" Elizabeth started demanding an update on how many minutes left in the trip every ten minutes. Dave suggested we increment our estimates and see whether she noticed. "How many more minutes?" asked Elizabeth. "36" I replied "How many hours is that?" "5" (we have to amuse ourselves somehow). We passed the time telling jokes, including the Asimov horse joke. "How many more minutes?" "14" "That's tooooo looooong" Brendan: "That doesn't count stopping to get the horse." Elizabeth: "Daddy, that's not even funny"
"How many more minutes?" Amelia: "Waaaaa"
Suddenly great consternation from the back seat. "DID WE BRING THE SLED??!!??" "No" "WE HAVE TO GO BACK TO OTTAWA!" Needless to say we were very happy to get to Wellesley.
1
On March 2, 2016 at 11:42 am
Great aunt Judy C. Bender
said:
What wonderful pictures!.....and memories!!!
2
On March 2, 2016 at 11:42 am
Great aunt Judy C. Bender
said:
What wonderful pictures!.....and memories!!!
You might also like
- Buskerfest
(0.413453)
- Mooney's Bay
(0.412808)
- Missed the bus, Concussion, Matthew gets a stripe
(0.411876)
- Visiting Great Grandma
(0.409209)
- Home
(0.409168)
All