January 31, 2016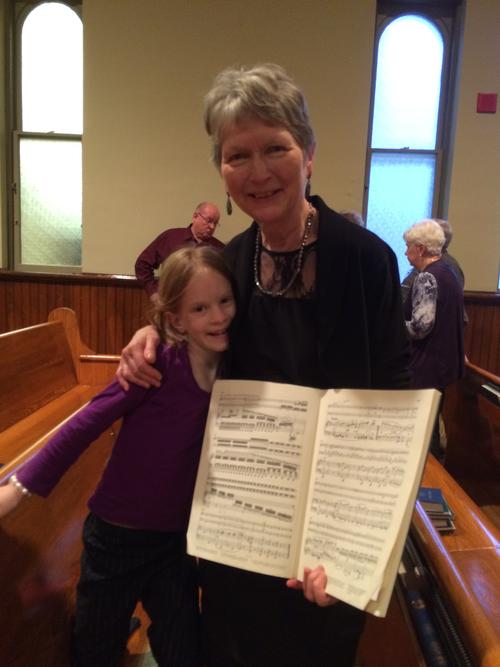 On Sunday we did a little school, read a lot of stories, went to church and played in the snow.
In the afternoon we went to Great Aunt Joanne's benefit concert to raise money for Syrian refugees, which was dedicated to my Grandma. We really wanted to go as Elizabeth and Auntie Joanne are quite the music buddies and we thought it would be great for Elizabeth to see her perform! The concert was amazing - Joanne is quite an incredible pianist and the other two musicians were excellent as well.
The church also had the best nursery facilities I've ever seen. I especially thought the location overlooking the sanctuary was brilliant. Elizabeth and Xander were tickled pink to be allowed to travel in the same car. Elizabeth was quite happy to stay at the recital until the violinist played a Syrian piece evoking his feelings of displacement (it was TOO SAD), but she did manage to sit with Daddy all the way to the end unlike the other three kids (Isabelle and Theo were napping so stayed back at the hippo house with Uncle Dave).
She was not quite sure whether to be proud of being the big kid who was able to stay through the whole concert or jealous that the others all got to play with toys while listening to the concert. Eventually pride won out, but only after she extracted some time to play of her own. She wants to be able to play piano "just like Auntie Joanne when she's an adult".
1
On March 1, 2016 at 08:01 am
Aunt Val
said:
Joanne is such a gifted pianist and is the best isn't she!! ...and such a beautiful person!!!
You might also like
- Party
(0.401483)
- New Year's Eve at the Hippo House
(0.386792)
- River Oak
(0.385354)
- Berlin Wall
(0.383693)
- Wedding prep
(0.381313)
All