February 1, 2016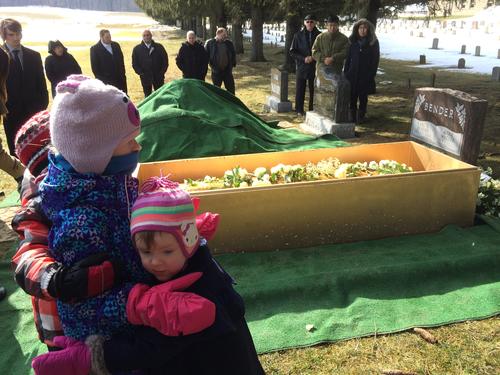 "I asked my cousins if they had any Grandma B stories that I should tell and there were a few themes: making baby pies with the leftover dough from the big pies she always used to make especially pumpkin and apple, blueberry and the odd chocolate, eating arrowroot cookies, the candy jars that she always had on the counters and being told off for driving grandpa's golf cart too fast or climbing the trees too high or going too deep in the water! One grandchild recounted getting into big trouble after inventing a game that involved grabbing apples off the tree from the golf cart and crushing them under the wheels. Grandma made the guilty parties clean up every last apple. I gather that was a lot of work.

Grandma had a huge garden - it was so big she needed Grandpa to use his tractor to till it in the spring. We were allowed to help ourselves to anything that was ripe; a directive that was clarified when Andrea and I stripped the garden completely clean of peas and then retired to the barn to eat our fill. Grandma made us shell the remnants for supper that night - that's when I learned how to make cream style peas and sausage.

My Grandma was a really great cook. My mom used to complain that she did everything without a recipe - just splash some water into the dough until it looks right, and how can you learn based on that? But Grandma successfully taught me to can over the phone. She was really good at passing on her knowledge even if it didn't necessarily seem so at the time. She's also the reason I know how to make canned tomatoes, pickles and grape pie. And for the record grape pie tastes best when picked fresh from the pine tree, and don't forget to take out the seeds or some people will think you baked ants instead of grapes.

My Grandma was extremely creative as you all know. She taught many of us how to knit, crochet and quilt. She made a lot of us if not all of us (and all the great grandchildren) baby quilts. She never failed to send a card with cash for birthdays and Christmas. Even this last Christmas when she was very, very ill she arranged that everyone had a gift - socks for the boys and slippers for the girls. She also of course taught us all how to play Scrabble. I'm sure I inherited both my love of reading and my love of Scrabble from her.

When we visited Canada we always would stay at Grandma's growing up and it was a lot of fun. We put on very long plays for the adults which I remember fondly and I hear the adults remember less fondly. They tended to go a little long and usually ended in tears. One year we came in the winter time (we usually came in the summer) and there was snow. She said she'd never seen kids get so excited for snow before. She thought our idea of building an igloo was dangerous and ill advised. But she provided us with her favourite knife to carve the blocks and the photo of the end result was prominently displayed on her fridge for many, many years.

She took most of our hijinks in stride. But even she wondered when she discovered a pair of my brother's underwear in her freezer. My mom called me to the phone to try and explain what I was thinking. I remember being surprised that Grandma knew it was me!

Many of my cousins also commented on Grandma's relationship with Grandpa whom she adored. In a typical exchange, one cousin remembers being told to put all the plants in the greenhouse outside. "Ach, it's too cold", Grandma said. "Bring them all back in". But Grandpa insisted. Finally the cousins asked their dad for help. We think Grandpa won. Grandpa had a lot of wild cats in the back. Grandma always said she hated them, but those cats were really well fed. Maybe it was just because she loved Grandpa so much.

She loved children and she was happiest when she had an armful of kids. My daughter Elizabeth says that her favourite memories are of getting to ride on Grandma's lap in her wheelchair. "That was so cool." When Elizabeth was two Mary and I took Grandma and Grandpa to Niagara Falls. I've never seen Grandma so happy as the time that she finally convinced my two year old (who was rather shy at the time) to sit on her lap and she actually fell asleep there.

Grandma had a really profound influence on me: in addition to reading, quilting, canning, gardening and playing Scrabble she's the reason I don't have a dishwasher. And she also helped me find a husband!

I got it into my head I'd like to learn German so I could talk to my grandparents in their mother tongue. Long story short I ended up taking classes on Saturdays and that's where I met Brendan.

Grandma came with my parents to pick me up from German class when she was visiting Ottawa. She looked Brendan way up and down and asked me "Is he the one?" "Yes", I replied. "Well", she said, "It's nice to have an acceptable extra curricular activity!" Unfortunately after that I spent more time talking to the boy than learning German, but since I married him it was time well spent!

My sister in law also remembers meeting Grandma for the first time. Our family is rather large for an outsider to come in. It is kind of intimidating. She met her at a family retreat. We were all in one house. They arrived really late, after midnight. But Grandma and Grandpa wanted to meet Karen as soon as she arrived. So even though they had gone to bed and taken out their teeth. Grandpa got up and dragged Karen into the room. "Come meet Grandma!" and gave her a hug.

My Grandma was a really big community builder, and the center of our family. I think, I hope that her biggest legacy is that she's taught the rest of us how to be family and how to be community and I hope that we don't lose that sense now that she's gone."
That was a transcript of my eulogy for Great Grandma, minus the part at the beginning where I blurted out how terrified I was of public speaking (didn't help that I didn't quite have time to finish writing out my speech so I knew I had to wing part of it) In any case, it was well received and I enjoyed reliving the various memories. I was sorry we had to rush back to Ottawa immediately afterwards - didn't get much chance to talk to some of my relatives, especially my great aunt Vera. Elizabeth was somewhat indignant that she didn't get a chance to look at Great Grandpa again. I gather she thought she'd get to look at his embalmed corpse when we buried Great Grandma. When she realized that wasn't going to happen, then she was sad that she didn't get "enough time" to look at Grandma's body. There were some awkward questions about Grandpa J too (WHY doesn't he have a tombstone? What did Grandma DO with him? HOW could he fit in such a small [cremation] tube? WHY didn't she get to look at his body?) and she's decided that SHE wants to be buried with an open casket visitation rather than cremated. But only if it's not too expensive.

1
On March 1, 2016 at 08:03 am
Aunt Val
said:
Thanks for sharing this with us Mary!
2
On March 2, 2016 at 11:47 am
Aunt Judy C. Bender
said:
You did such a good job of sharing at the funeral and thanks sharing it with us so we can read it when ever we want.
3
On March 2, 2016 at 12:01 pm
Aunt Judy C. Bender
said:
Also, wanted to say the pictures are awesome and each really are worth 1,000 words (and lots of memories)!
You might also like
- Sewing with kids
(0.504167)
- Mary and Andrea visit
(0.50326)
- Crazy Pickles
(0.498444)
- The Tree Story
(0.496274)
- Homeschool wk may 4-may 8
(0.49519)
All