February 4, 2016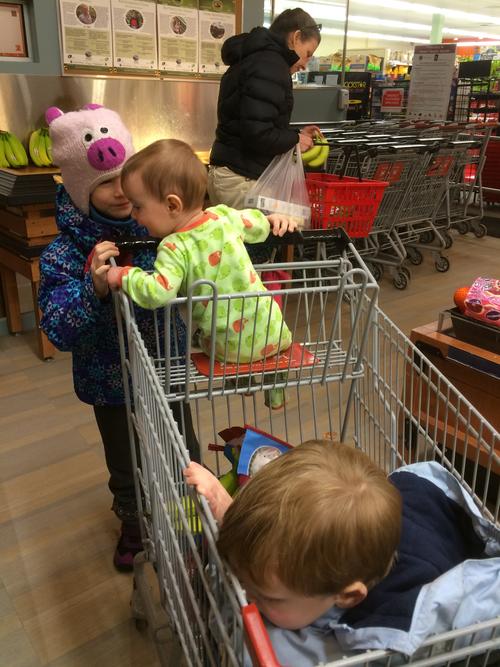 We've been having a rather warm winter so far and while we have had some snow the high temperatures and warm sun made everything melty. Then it got cold again and there was a slick layer of ice over everything. It was quite challenging to get up the hill but apparently an amazing slide down.
The kids are taking swimming lessons again at Dovercourt and I took all three of them by myself. We got there with enough time to play in the snow first. After swimming, I took the whole crew to the grocery store where I discovered that Amelia is now big enough to sit in the cart. This does not stop random strangers from trying to touch her head. Elizabeth pushed her siblings in the cart and I tried to stack the groceries in a way that would not get destroyed by a wiggly son. Still have much respect for single parents, still prefer to shop with husband in tow.
1
On March 1, 2016 at 07:56 am
Aunt Val
said:
Yes, I remember those days!!! I always did the grocery shopping with the kids during the day when Rob was away at work, so it was rare for me to have Rob's help. No wonder I consider grocery shoppng a necessary evil...haha. I've discovered, that even now when I am grocery shopping by myself, that having anyone's help is a bonus!!...and much more fun!
2
On March 2, 2016 at 12:08 pm
Aunt Judy C. Bender
said:
It certainly is a difficult task with three little ones! And I was wondering where you had room to put any groceries :)
You might also like
- Xander
(0.386777)
- Skating and Swimming
(0.386124)
- Smiley Face Pancakes
(0.377273)
- Roses and Thorns
(0.373239)
- Doors Open Ottawa: Barber Carving & Sculpture Inc
(0.371585)
All