February 28, 2009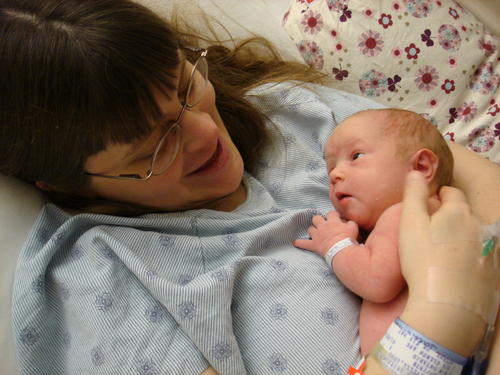 Mary and Brendan are thrilled to announce the birth of their daughter Elizabeth Eliana. February 28, 2009 at 11:08 am 6 pounds, 3 ounces and 18 inches Mom and baby are both doing well.
We went into the hospital for 6am and starting looking for room 1A-159 as instructed by the person at the special number. Unfortunately, I neglected to bring the directions explaining how to find this room (it was 5:30am when we left and I was somewhat preoccupied!). We wandered around the first floor for a bit until we found a real live person and they suggested we go to the maternity triage desk. Since that's where Jessica the midwife had told us to go, we decided to try it. They were obviously expecting us - "Are you Dr. Gravelle's patient?" Brendan's mom had driven us to the hospital and my mom showed up about an hour later (Grandmothers are allowed to wait to see the baby right away. I guess they figure grandfathers can wait, since they were never mentioned!)
The nurse checked out my vitals, listened to baby's heartbeat, started an IV and explained to us what the procedure was going to be. The IV really hurt, as usual. You could see a red line of irritation gradually spreading and I was starting to feel quite cranky about the IV.
Time for our seventh and final ultrasound. A med student came to do the initial ultrasound. She was very tentative \\u2013 able to follow the spine but unsure which end she was looking at. So I impressed the med student by pointing out various body parts. After having had so many ultrasounds particularly in the last few weeks I\\u2019m definitely able to locate the head when it shows up on the screen, especially since I know where the head is in relationship to my stomach. Her supervising doctor came then to go over it with her. He had a much better understanding of what he was doing, but it made us realize how good the ultrasound techs that do this day in day out actually were (much less having to follow body parts to find other body parts).
By this time it was nearly 7:30am, but the doctor explained that there had been quite a few caesareans the day before, which had bumped some emergency orthopaedic cases. Those surgeons were currently pleading their case for operating time. He said we might need to wait until 8pm or maybe even until the next day! Since I had been fasting since 11pm the night before and already cranky about the IV, I was not impressed to hear this. Luckily the wait was actually only about an hour and a half, and before we knew it the nurses were back to replace the saline with various anti-nausea and other drugs.
The nurses had all threatened me with having to drink a vile tasting "shooter" - apparently a different kind of anti-nausea drug. When the anesthetist showed up, however, he decided I could be let off the hook since I'd experienced virtually no heartburn during my pregnancy ("lucky girl" he said) and since I had not had anything to eat since about 9pm the night before. Based on the sheer number of comments, the drug must taste pretty bad.
We headed to surgery sometime after 10am. The porter helped me lean forward (\\u201cslouch\\u201d) sitting on the operating table while they painted my back with a really cold liquid. I was then slathered in some kind of numbing gel, and then a quick pinch for the freezing shot. It didn\\u2019t hurt too much \\u2013 less painful than getting freezing at the dentist. I was pretty keyed up though. I believe that the morphine shot happened in here too, but I didn\\u2019t notice. The actual anaesthetic felt like a warm flush going down my leg. Since the operating room itself was very cold, it felt wonderful! I confess I was a bit worried because the left leg got warm much sooner than the right and I was wondering whether he had missed. The porter and anaesthetist helped me lie down on the table and suddenly everyone sprung into action. Some were attaching a blanket to block my sight, others adjusting drugs for the IV, setting up monitors, still others putting me on oxygen and painting my stomach with iodine. There were a surprising number of people all working together like a well-oiled machine. I could feel that my legs were being moved around, but when they asked me to tell them when I felt the cold of the iodine (one way they check the progress of the freezing), I felt nothing at all.
They seemed very happy by how fast the freezing took effect for me. I was told that I\\u2019d be pinched hard in places to check the freezing but since I couldn\\u2019t feel anything I have no idea whether that happened or not. I remember being surprised by how close the blanket was to my face. For some reason I had expected it to be a foot or so away, not thinking about the fact that in order to operate they\\u2019d probably need to see the entire stomach area! After a few minutes things were pretty much set up. The blanket was replaced with a sterile drape. Out of the corner of my eye I could see the surgeons enter the room, hands freshly washed. In addition to Dr. Gravelle, there was a medical student and a second obstetrician.
Brendan was ushered in to sit by my head, looking very medical in his scrubs. I was pretty impressed that they managed to find scrubs tall enough to fit him properly! The anaesthetist explained that if Brendan felt lightheaded at any point he was to lie on the floor \\u2013 they didn\\u2019t want him keeling into the table.
All of a sudden, the anaesthetist announced that the surgery had begun \\u2013 he actually gave us a bit of a running commentary throughout the operation which was really nice. I was really surprised that the surgery had started \\u2013 up to that point I\\u2019d felt pressure in various areas as they got things ready, but when it came time for the actual incision I felt nothing at all. The caesarean had been described to me as a lot of \\u201ctugging\\u201d when I was reading about it in advance, and although I didn\\u2019t think much of that description before the surgery, I have to admit that I can\\u2019t think of a better way to describe the sensation. I told Brendan sotto voce that it was a really strange way to have a baby. Apparently Dr. Gravelle has very good hearing as she told us that the baby being born was more important than how. It was kind of startling because I\\u2019d almost forgotten about all the other people on the other side of the sheet!
As they pulled Elizabeth out by the feet, Dr. Gravelle congratulated us on our decision not to try turning the baby and confirmed that the caesarean had been completely necessary, as the umbilical cord was tightly wrapped around her neck three times. Needless to say, Brendan and I were very relieved to hear the baby start to cry. Elizabeth was taken over to the warming station and checked out, and Brendan went to see her. After a few minutes they both came over to see me. She was beautiful! Brendan, Elizabeth, the midwife and the crew assigned to the baby then left to get checked out in the nursery. I was expecting to feel a bit left out and lonely, but the anaesthetist kept me distracted until the end of the operation. It wasn\\u2019t long before I was wheeled into recovery and the nurse announced that baby was on her way back to visit! The anaesthetic wore off pretty quickly for me \\u2013 whatever drug they used just worked perfectly and was exactly right for what was needed.
Today's verse in our little devotional book was very fitting for today.
Joshua 10:12-14.
Joshua prayed to the LORD ... "Let the sun stand still ..." So the sun stood still ... There has never been a day like this one before or since, when the LORD answered such a prayer. (NLT)
Who knows what God might do because of your prayer today! If you knew God would grant your prayer request, what would you pray for?
What a fitting question for today.
You might also like
- Matthew
(0.565087)
- Back to (virtual) school
(0.503538)
- Michael Gabriel
(0.501823)
- Amelia Anne
(0.501477)
- Healthy Girl
(0.496411)
All