February 6, 2016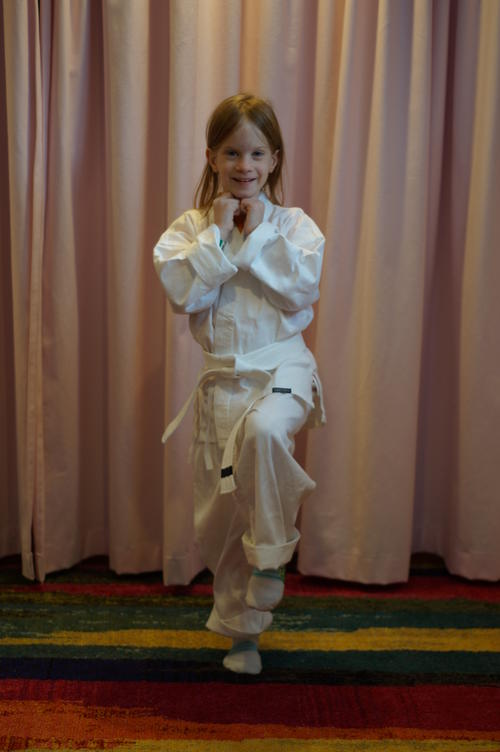 I've mentioned in passing that Elizabeth is taking karate lessons; she had wanted to do an extracurricular activity with Adi and after complex schedule comparisons with Adi it became clear that it was a choice between hockey or karate. Hockey was on the weekends (which we try to keep clear of commitments) and Brendan isn't keen on anything that might lead to becoming hockey parents. Karate also had the attraction of multiple options a week but no requirement or expectation to attend all sessions. As it turns out, Aidan's been trying to talk Elizabeth into trying karate for ages but she flatly refused to go or even hear what karate was, but when I told her Adi was going to be there she was super excited.
So we went to try out karate. For some reason I was under the impression that Adi had only recently joined, but it turned out that she's been taking classes for nearly a year and is already a yellow belt.
Elizabeth immediately decided two things.
1) She likes karate.
2) She's going to every class she can until she catches up to Adi
Today she got her first stripe and she was SUPER proud. She's been teaching Matthew and Amelia a few moves - apparently one of the warm up exercises involves belly crawling across the floor and Amelia is perfectly able to do that ;)
You might also like
- First day of "preschool"
(0.384437)
- Come Sing Messiah
(0.380079)
- First day of school
(0.374687)
- Michael's birthday
(0.372328)
- Music
(0.371808)
All