February 15, 2016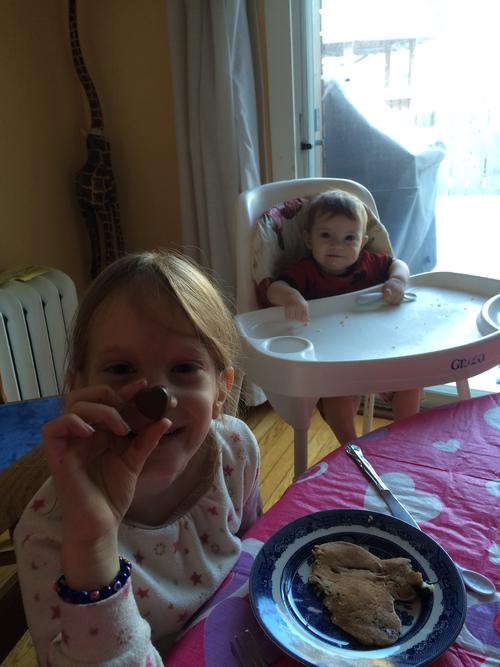 I didn't get around to doing much with Valentine's Day yesterday, so we celebrated today with heart shaped pancakes, special letters and cards and lots of chocolate! Elizabeth wrote many cards for her friends at school, many of which I found hilariously creepy (including the always popular "I like your pants" "Really?" I said. "I don't know what else to say!" said Elizabeth "She has pretty cool pants" "Ok then", I said)
Then the whole family went swimming AND skating with Grandma. The ice wasn't great and the wind was quite something so we didn't go too far. On the way home the kids complained bitterly about the wind in their faces so we covered them up with scarves and hats. They couldn't see but they didn't mind and Matthew actually fell asleep in the sled. Amelia slept the whole time all cozily covered up. It was too cold for the phones so we only got one picture before the phone died but we had fun.
1
On March 8, 2016 at 02:50 am
Grandma H
said:
Chocolate for breakfast?!

Do you remember one infamous Sunday school lesson (including British children) and there was something about colours of articles of clothing. Happened to ask about colour of pants to the great mortification of one little girl. Finally figured out those are trousers...


You might also like
- PD Day
(0.396597)
- Ski
(0.373353)
- Matthew is Two!
(0.368201)
- Smiley Face Pancakes
(0.367107)
- Victoria Day
(0.365672)
All