February 16, 2016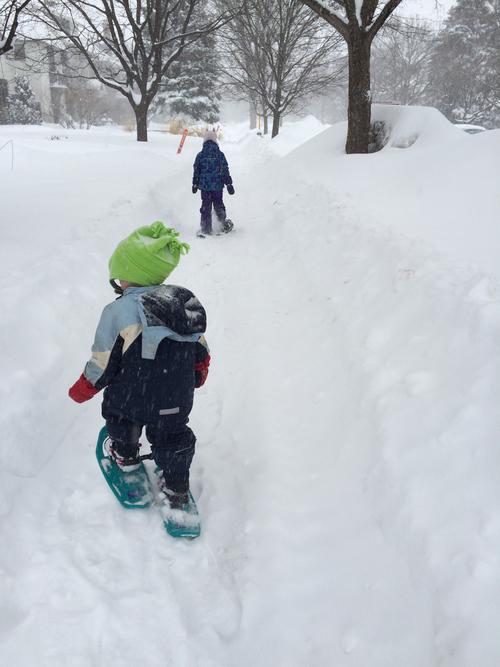 52 cm of snow at once! The kids were SUPER excited and I might have been a wee bit too! It was also a snow day. We didn't drive Elizabeth to school but we did all go to music class and then to the library. Elizabeth was pretty pleased to get to be Amelia's "helper" for music "... because I'm really too big to go to a baby class now Mom" said she, sparking fury from Matthew who was not happy about his beloved music class being characterized as for babies. Although there are definitely babies who participate and Amelia isn't even the youngest anymore!
By the time we got home around noon the snow was coming down heavily enough that I cancelled any ideas I had about driving anywhere else for the rest of the day. The plows were having a hard time keeping up and even the main roads were pretty terrible.
Eventually it stopped snowing quite so much and we decided we needed to clear the driveway. I was borrowing some snow shoes from Grandma J so the kids and I promptly put on our snowshoes and headed outside. I even shovelled a bit, wearing snow shoes with sleeping baby strapped to my chest. Does it get more Canadian than that?!?! Elizabeth was running up and down snow banks and generally having a blast. Matthew had a bit more trouble as he kept stepping on his own feet and having to be hauled back up but loved the snow!
There's a new app for tracking your snow plows in Ottawa this year and it's been pretty terrible so far. But this time after it went all day telling us that it wasn't about to give us an estimate since residential road plowing hadn't started yet (fair enough), when I finally checked the estimate was pretty good. Mind you, it had previously told Brendan 20 minutes about an hour and a half before that. But I still think it's an awesome concept and every storm they are getting better... Plus it's amazing to me that people basically still all went to work and we still received courier packages etc all day.
You might also like
- First outings: Music, library, karate
(0.45233)
- Family Day
(0.448009)
- Buskerfest
(0.424327)
- Calypso
(0.423154)
- River Oak
(0.423039)
All