October 11, 2009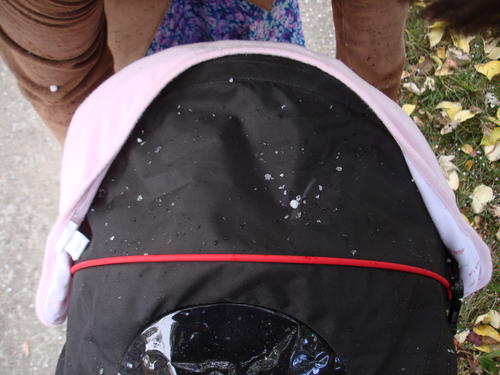 It's Canadian Thanksgiving weekend and the end of autumn (regardless of calendar conventions). I know this because today marks our first serious frost warning, plunging temperatures and a hail storm that caught Brendan, Elizabeth and I by surprise during our afternoon walk. Luckily a lady noticed our predicament as I futilely tried to shelter Elizabeth with my body and invited us onto her porch until the storm passed.
Uncle Dave, Auntie Karen, Uncle Chris, Auntie Yukiko, and cousins Erika and Maria all came to help Auntie Janice, friend Ray, Brendan, Elizabeth and I celebrate in proper style. Since no grandparents were in Ottawa to supervise, we decided to forego the traditional dishes in favour of potato leek soup, beef, salad, delicata squash, turnip/apple casserole, rolls and a pretty amazing scalloped potato made with boursin cheese. For dessert, gluten free pumpkin pie loaded with whipping cream.
Elizabeth tried the soup and a bit of beef gravy, but wasn't a big fan of either. She seemed to be enjoying her banana at lunch slightly more than the first couple of tries, but an enthusiastic eater she is not (yet)!
We managed to connect with Grandma and Grandpa H via Skype in the afternoon to the entertainment and amusement of all. Grandpa H thinks that the pixellation mades Brendan look like a Cardassian, so we may still want to experiment with settings, but it was definitely more fun than a normal phone call.
You might also like
- Easter egg hunt
(0.380328)
- Good Friday 2015
(0.366698)
- Family Retreat (Part I)
(0.366366)
- Rive Nord
(0.365169)
- Happy Birthday
(0.364774)
All