March 11, 2016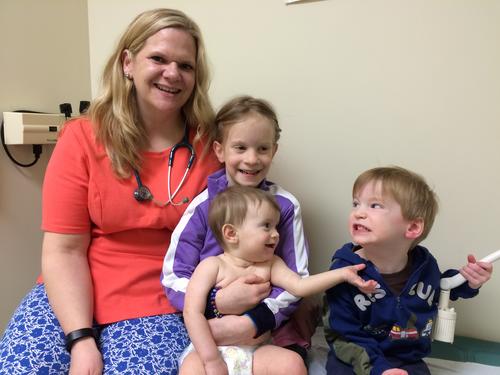 So in a fit of organization or insanity - call it what you will, we booked all three kids for checkups at the pediatrician at the same time. Back to back to back. We joked that the office might shut down after our visit. We proceeded to make all of the necessary arrangements to ferry the kids from their various activities to the appointment without missing more of anything than need be. In the end Matthew arrived a few minutes after the others by Auntie Janice taxi, but managed to attend the end of his last sportball class. As the others were still being poked and prodded by the nurse this was just fine and it all worked out well. So far so good right? With three kids and two adults in the exam room it was pretty crowded and chaotic but for the most part the kids behaved and the staff took it all in stride. Then came the first surprise. Our big Elizabeth had a fever. She must be growing up as she was clearly not going to let a little fever stop her from keeping her busy social and events calendar. Who knows maybe next she'll get herself to the toilet when sick (one can hope right)? Turned out she had a nasty sounding lung and was prescribed antibiotics. After the older two had been checked out and cleared as normal we shooed them out to the waiting room to their doting auntie who lacked the good sense to make a run for it while they were in the care of their parents and had stuck around. Thankfully she had as it was then quiet enough to actually talk to Dr. Lynn about Amelia while she was examined and ask her about Matthew's speech which seems to be a bit on the slow side developing a few of the sounds but not a cause for panic yet.
We also learned that while not due to our visit with three kids at once, Dr. Lynn would be leaving in the near future. We were deeply saddened to learn of her imminent departure as we've really enjoyed having her as a resource to call upon when dealing with the health of our children. She has truly stepped well beyond what most doctors do and has taken our children's wellbeing very seriously. From our very first meeting we've been impressed by her friendly demeanor, her attention to detail and her care for our kids. She's picked up on patterns our kids follow (10 day antibiotics for strep not 7) and gone above and beyond. For example, she called us after hours to get us a prescription while we were on vacation out of town. She also did a pile of additional reading to find a single dose option which would be less disruptive and unpleasant for our already-by-that-point-seriously-long-suffering kid. She will certainly be missed by us and will be a huge asset to the new patients she will serve in her new job.
So after trading Facebook names and such so that we could keep in touch and booking a final checkup for Amelia right before Dr Lynn leaves, it was off to deal with our sicky who wasn't about to admit to being sick before she and her brother did poor Auntie Janice in.
------
I usually write the posts around here, but sometimes I make Brendan do the honours. I figure most of you know this since we have rather different writing styles. In any case the above is a Brendan post because I was TOO SAD to write about this. I only half-jokingly suggested that we might want to look into moving ourselves as it possibly might be easier than getting a new doctor for the kids...
You might also like
- Music Day
(0.466296)
- Healthy Girl
(0.46534)
- Michael Gabriel
(0.461806)
- Karate Tournament, Birthday and ER Part 2
(0.460697)
- Child Labour
(0.459972)
All